Bio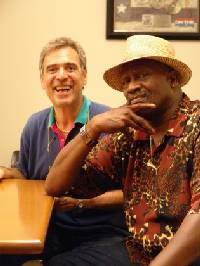 Bob, along with his profitable track record in the computer industry and Internet communications arena, founded his own profitable computer hardware/software company, (1979-1991).
He was the architect of the 2002 KBA-Award- Winning, web site (www.NYBluesandJazz.org). Bob possesses the essential management ability and electronic media savvy to enhance presence in today's burgeoning electronic-communication/media environment. He is responsible for growing the circulation of the New York Blues & Jazz Society's bi-weekly electronic newsletter (E*BluesNews) to (at last count) over 5,000 jazz and blues fans!
Equally at home within the entertainment field, Bob is an experienced coordinator, organizer and host of live blues music parties, concerts and festivals, presenting leading artists on the blues music scene today.
He is the radio deejay host of (Fairleigh Dickinson University Radio) WFDU's program, the 2003 Keeping the Blues Alive award winning "The Sounds of Blue", through which he presents a variety of recorded blues music, as well as live performances and interviews with blues and jazz musicians and industry-related journalist, and recording label executives. It should be noted that with just three years at WFDU Bob was the second largest fund-raiser for his "Sounds of Blue" radio show.
On Saturday 2/21/2004 from 6pm-midnight, Bob has orchestrated a special all live six hour performance radio program at WFDU. This show closes out WFDU's fund drive, and features many of New York's top musicians.
Recent in studio interviews include: BB King, Gatemouth Brown, Robert Cray, Koko Taylor, Pinetop Perkins, Jay McShann, Johnny Lang, Melvin Sparks, Hubert Sumlin, The Dirty Dozen Brass Band, The Rebirth Brass Band, Jimmy and Jerry Vivino of the Conan O'Brien show, Michael Hill, Kenny Neal, Deacon John, Jon Cleary, Poncho Sanchez, Karrin Allyson, Chuck Mangione, Benny Golson, Michel Camillo, Chris Flory, Duke Robillard, Dave Alvin, Tommy Castro, Derek Trucks, Anson Funderburgh, John Hammond, Ben Sidran, Lucky Peterson, Carla Cook, Bob Porter, Delbert McClinton, Shemekia Copeland, Mike Clark of the Headhunters, and many others.
Book authors and journalists are also featured, Bill Dahl (The Golden Age of Motown), Ashley Kahn (Kind of Blue & A Love Supreme), Michael Lydon (Rock Folk, Ray Charles, & Flashbacks), John Broven (Rhythm & Blues New Orlens, and Ace Records), Robert Gordon (Can't Be Satisfied, Muddy Waters), and Art Tipaldi (Children of the Blues)to name a few.
Industry people are also interviewed, such as; Bruce Iglauer of Alligator Records, Bob Koester of Delmark Records, Joe Fields of Prestige, Muse, and High Note Savant records, Joel Dorn former VP and producer of Atlantic Records, Fred Bronson of Billboard Books, and producer Cosimo Matassa who owned the only New Orleans recording studio in New Orelans from 1947-1970.
A proven negotiator, Bob spearheaded the reorganization of the NY Blues Society into its current form, the New York Blues and Jazz Society, and has obtained for its members a competitive group-rate health insurance offering.
Bob's residence in the New York metro area avails him ready access to major venues, artists, management, agencies, and broadcast and news media.
Bob also has contributed many articles to our www.NYBluesandJazz.org site, as well as for Goldmine magazine, with feature articles on Herman Green and Deacon John. He is often quoted for new Cd releases such as the new Darrell Nulisch recording on Severn Records, and the Deacon John "Jump Blues" Cd and DVD, and has written liner notes for the latest Melvin Sparks recording "What you Hear is What You Get", and Jerry Vivino's new CD as well. Bob was also interviewed in Crain's NY, along with Martin Scoresse, and Sony President Jeff Jones in a article about the 2003 Year of the Blues PBS special. Bob also compiles and edits a weekly Jazz and Blues summary of who is playing in the NY Metro area, which appears in The Pennysaver, reaching nearly one million homes!
Bob also organized the "Howlin' For Hubert" Sumlin benefit at BB Kings in NYC, where over $12,000 was raised for Mr. Sumlin, who is successfully recovering from cancer surgery. And for Melvin Sparks, where he contacted many of the NYC's elite jazz musicians to donate their time for Melvin, which also included convincing Gatemouth Brown to join in with the festivities, at The Jazz Standard. Bob also negotiated and coordinated the booking for a 13 week jazz and blues summer lunch performance program for Stamford CT largest corporate building Reckson Associates.
He also put together a special Blues night for the city of Mount Vernon in its 2003 Bob negotiated The Summer Breeze series featuring the Jerry Vivino Quartet, which subsequently has been given a grant by the Westchester Arts Foundation to put on another series of show's for 2004.
Bob also produced the Towaco Jazz and Arts Fest in October of 2003, which featured Ed Alstrom & Acid Cabaret, Jerry Vivino's Quartet, Gil Parris's band, and he was responsible for bringing New Orleans great Deacon John to the NY area for his only North East performance ever, where almost 10,000 fans came out to enjoy the music
Finally and foremost, Bob's love of blues and jazz music and appreciation for the heritage, is the driving motivation for him continuing to make multi-media contributions in keeping the public informed of music goings on in the Tri-State area.
2004 starts out real well, as Bob has been elected to the Handy awards nominations selection committee for this years Handy award's, and is a judge for final competition at The Blues Foundation's, International Bands Competition in Memphis.
It should be noted that, all of the interview bookings are solely coordinated by Bob, as well as all the ticket, book and CD giveaways Bob does this for his listeners on his radio program, "The Sounds of Blue" which airs on WFDU-Fm 89.1, and on the internet: www.WFDU.Fm, every Wednesday and Fridays from 9am-1pm,