Blues Beat

Experience Hendrix Tour
Beacon Theater
New York City, New York
By Bob Putignano
<![if !vml]>
<![endif]>
Rock history will probably always remember Jimi Hendrix as one of its best original inventors, who stylistically stands alone with his unique guitar sounds. So many guitarists have tried to follow in Jimi's shoes, but only a handful have been able to master what Jimi had pioneered. Stevie Ray Vaughan probably did it best, but very few others come to mind who stood out like Jimi to be able to carry on with the lofty bar he set when he burst onto the scene in the later part of the 1960s.
You have to love the creators of Experience Hendrix, who started this tour concept in 2004 and who are carrying on the legacy of the greatness of Hendrix. They recently brought in former Hendrix bandmates Billy Cox and Mitch Mitchell for a six-show run through the East Coast. But for the most part (especially the first ninety minutes of the show, which in total clocked in at over three hours) I felt there was not enough beef and very little sizzle coming from the guitarists employed; that for my ears only matched Jimi's tour-de-force playing with their intense volumes at which they played and could not match the passion Hendrix expressed.
<![if !vml]>
<![endif]>
Robert Randolph
Photo by Bob Putignano
Perhaps it is not fair to make this comparison, but I know there could be a better gathering of guitar players that are readily available, that I also know who would enjoy the work of being part of the Experience Hendrix tour, plus they would fit the bill to a tee. Names that immediately come to mind are Harvey Mandel, who recently had a great run with the Chicago Blues Reunion and has a resume that reads like a who's-who (Rolling Stones, Canned Heat, Mayall, Sugarcane Harris, Mike Bloomfield) and Mandel was also part of the historic Woodstock Festival, as part of Canned Heat on the very same stage Hendrix closed the festivities in upstate New York. The more I think about it, Harvey would shred and rip through our favorite Jimi classics with style, reverence, and would be bombastic! And how about a guy like Hiram Bullock who also played with everyone from Jaco Pastorius to Steely Dan and often covers Hendrix on his recordings and in performance. Another would be Johnny A, who has not yet covered Jimi on record, but if you have seen him perform live you would know that he almost always closes or encores with an extended Hendrix jam and cites Jimi as his most major influence.
<![if !vml]>
<![endif]>
Buddy Guy
Photo by Bob Putignano
Instead, at this performance we had to endure through ninety minutes (the first set) of a concert portion that could have easily been eliminated. More quality, not quantity, please!
The saving grace of the Experience Hendrix show and musical highlight had little or nothing to do about Hendrix other than (as we all know) Jimi was obviously very influenced by Blues music. So thank goodness that the second segment of the show was spearheaded by Buddy Guy who took control, leading a stellar cast of musicians through a somewhat long and meandering set of Blues songs and jams. The Bluesmen did not seem well rehearsed, but they were fun nonetheless and are all masters of their craft. And they did not play at ear-deafening levels! So Guy called on the always wonderful Hubert Sumlin and they traded gorgeous guitar solos. Next was that young monster from Jersey, Robert Randolph, who Guy seemed to be gushing over and the two were definitely having a great time playing. Kenny Wayne Shepherd also worked fairly well throughout this portion of the show, but I did not hear many good moments coming from ex-Stones guitarist Mick Taylor, who also looked physically out of sorts. As I mentioned earlier they should have gotten Harvey Mandel, as they got the wrong ex-Stones guitarist!
Long story short, all too often (specifically during the first ninety minutes of the Experience Hendrix show) too many of the guitarists took the approach that excessive volume and speed equals great music - NO! And thank God for Guy, Sumlin, and Randolph who truly saved the day and made Experience Hendrix pleasurable. Let's hope the organizers of the tour (I am pretty certain that there will be more of these tours as both New York City shows sold out at the blink of an eye) will fine tune the Experience Hendrix gigs for the next time around. And if they need contact info for Harvey Mandel, Hiram Bullock, or Johnny A. please have them drop me a line.
<![if !vml]>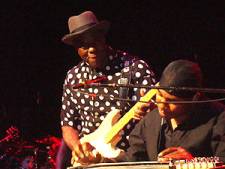 <![endif]>
Guy and Randolph
Photo by Bob Putignano
Performers:Hubert Sumlin, Buddy Guy, Robert Randolph, Billy Cox, Mitch Mitchell, Kenny Wayne Shepherd, Robby Krieger, Mick Taylor, Eric Gales, Chris Layton, Tommy Shannon, Noah Hunt, Andy Aledort, Mato Nanji, Corey Glover, Kurtis Dengler, Doyle Bramhall II, and Kenny Olson.
Bob Putignano is a contributing editor at BluesWax. You may contact Bob at: bob8003@yahoo.com web site: www.SoundsofBlue.com
<![if !supportEmptyParas]> <![endif]>
<![if !supportEmptyParas]> <![endif]>