Blues Beat

2008 Silda Jazz Festival
Haugesund, Norway
Story and photos by Bob Putignano
<![if !vml]>
<![endif]>
This year's Silda Jazz Festival was their twenty-second. The very first festival was a combined film/Jazz festival with only a few traditional Jazz bands performing. But that was then, as now we have five swinging days on the west coast of Norway! The Silda Jazz Festival is more than just a series of concerts; it's a cool package of varied events where the small and gorgeous town of Haugesund beautifully turns upside down creating a unique and exciting atmosphere of music of all genres.
In addition to all the outstanding Norwegian artists visiting, Silda Jazz has previously had the pleasure of presenting Jazz, Blues, and Rock dignitaries such as Nicholas Payton, Doc Cheatham, Lillian Boutte, Dee Dee Brigdewater, Etta Jones, Houston Person, Nnenna Freelon, Russell Malone, Ray Anderson, Scott Hamilton, Bucky and John Pizzarelli, Al Jarreau, Diana Krall, Mose Allison, Chris Barber, Herbie Mann, Joey DeFrancesco, Bill Evans with Chuck Loeb, the Manhattan Transfer, Richard Bona, Mike Stern and Curtis Stigers, David-Clayton Thomas, Big Luther Kent, Toto, and many others.
<![if !vml]>
<![endif]>
Big Luther Kent
Some of this year's many highlights were the performances of Lee Ritenour, Big Luther Kent, and an over-the-top performance by Herbie Hancock and his The River of Possibilities Tour.
Hancock's set was sparkling and went on for over three hours. The band consisted of world-class bassist extraordinaire Dave Holland who played upright and electric bass; the well-traveled Vinnie Colaiuta on drums; Chris Potter on sax; Lionel Louke on guitar; plus vocalists Amy Keys and Sonya Kitchell. It's impressive to note that just about every member of Hancock's band has recordings in their own names and has the ability to sellout a room with their music. There were various segments throughout the set of straight-ahead Jazz, Blues, Rock, and Funk. Especially entertaining were performances where the ladies showed off their vocal abilities on the rocking Blues "When Love Comes to Town" and "A Song For You," which appeared on Hancock's previous Possibilities album, written by Leon Russell and made famous by Donny Hathaway. The last two songs, "Cantelope Island" and the encore "Chameleon," were bombastic Funk outings, especially on "Chameleon" were Hancock strapped on his over-the-shoulder keyboard and jammed with each member of the band. Just when I thought the show was over and the members seemed to be heading off the stage, Hancock went back to his huge, gorgeous Steinway and extended "Chameleon" for another five minutes, thus making the encore run over fifteen minutes! Who marveled me most was bassist Holland, who was so in synch with Hancock and vice-versa, and it was cool to watch them lookout to each other and smile during mesmerizing instrumental segments. Last but not least, Hancock seemed to be having the time of his life and seemingly enjoyed jamming with his world-class bandmates.
<![if !vml]>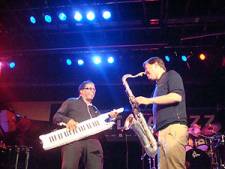 <![endif]>
Herbie Hancock and Chris Potter
Lee Ritenour's set was (expectedly) a bit smooth and boasted having the great Patrice Rushen on keyboards, plus Mel Davis on bass and drummer Will Kennedy. Perhaps I was spoiled, but having seen Hancock first, I felt disappointed with the interplay of Ritenour's band.
Luther Kent's band featured band organizer H.R. Ziifle on guitar, bassist Glen LeBlanc, ex-Tab Benoit drummer Allyn Robinson, and Bruce Elsensohn, who consistently impresses me each time I hear his expressive piano workouts. Kent was particularly in great form vocally and on one evening Kent literally destroyed the Irish Viking club! One reason for Kent's explosive vocal chops could be that he has recently stopped smoking cigarettes. The Silda concert organizers must be happy with Kent, as potential innuendos have already been whispered to having him back at Silda for an unprecedented three years in a row!
As I wrote last year, Silda Jazz is a world-class event that cares well for its patrons and also treats the performers royally. Speaking of being well cared for, I would personally like to thank Silda Jazz's Bjarne Dankel Jr. and press coordinator Unni Hilt for making my stay in Norway so very special.
For the 2009 Festival lineup keep checking www.sildajazz.no.
Bob Putignano is a contributing editor at BluesWax. You may contact Bob at: bob8003@yahoo.com web site: www.SoundsofBlue.com
<![if !supportEmptyParas]> <![endif]>