Joel Dorn Memorial Concert
Lincoln Center's Damrosch Park
New York City
August 13, 2008
By Bob Putignano
<![if !vml]>
<![endif]>
Joel Dorn
On a gorgeous New York City summer evening, a gathering of musicians, close friends, and fans (there wasn't a seat to be found) assembled at Lincoln Center's Damrosch Park to pay homage to the colorful record producer, radio DJ, and author Joel Dorn, who passed away December 17, 2007 at the age of 65.
The spectacular music lineup included Roberta Flack, Adam Dorn's group Mocean Worker, Mose Allison, Leslie Mendelson, Black Heat, Jane Monheit, the Jacob Fred Jazz Odyssey, Dr. John, Hugh Masekela, Janice Segal, the Persuasions, the Frank & Joe Show, Cornell Dupree, Wardell Quezergue, and Les McCann. It's noteworthy to mention that each of these performers had a direct musical connection to Dorn. Dear friends and associates Kevin Calabro, Michael Dorn, Dorthaan Kirk, and Stewart Levine all spoke and recalled memorable stories of their recently departed brother.
Joel's son Adam's band, Mocean Worker, appropriately opened and closed the show. Roberta Flack was second and my most vivid recollection was her heartfelt selection of "The First Time Ever I Saw Your Face," which she dedicated to Dorn. Mose Allison looked marvelous and played and sang magnificently. Other highlights included Black Heat, who Dorn produced at Atlantic, broke-up thirty-five years ago but reformed for the memorial and performed their funky "No Time To Burn," which sold over one hundred thousand copies in the 1970s. The Frank & Joe Show, who recorded two records on Hyena, were also ear-popping! Dr. John, who was very close to Dorn, performed solo and then did a duet with Atlantic Records regular session guitarist Cornell Dupree.
Aaron Neville could not make it to the show so the great Wardell Quezergue conducted the original recording of "Mona Lisa" from the Neville's Fiyo On The Bayou, all by himself! A couple of funny stories that Dorn told me about Fiyo On The Bayou: Dorn told me that A&M hated this recording, which made its first appearance in 980, but he was extremely proud of the fact of how well this album has stood the test of time. Additionally, when Quezergue was recommended to do the arrangements for "Mona Lisa" he was flown to New York City, members of the New York Philharmonic were hired, and when Dorn asked Quezergue what he needed for the session Quezergue said, "Nothing, I have my tuning fork"! Dorn was shocked and understandably was worried if he had made a mistake hiring Quezergue, but the rest is history.
<![if !supportEmptyParas]> <![endif]>
<![if !vml]>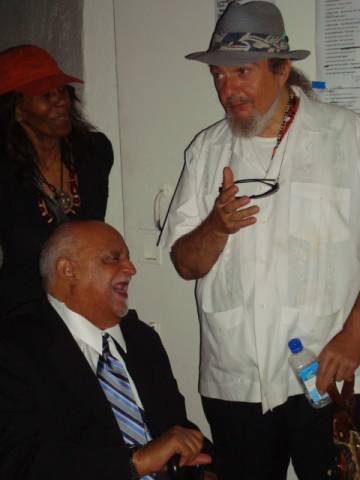 <![endif]>
Dr. John & Wardell Quezergue backstage at the Joel Dorn Memorial Service.
On a later day Hyena Records release of Orchid In the Storm, one of the bonus tracks is that same version of "Mona Lisa." From Dorn's liner notes: "You should have been at that session. We recorded Wardell Quezergue's stunning arrangements with an orchestra consisting of string players from the New York Philharmonic. When they split, Aaron went into the studio, dark except for a spotlight on him and the music stand. He put a picture of Nat King Cole on the stand and, with the orchestra comin' though his headset, eyes closed, he sang right to that picture of Nat. That was some fuckin' moment!"
Next up, and by far the most kicking performance of the night, was Les McCann who literally tore the stage down with "Compared to What." Which, of course, was very fitting as Dorn co-produced the song on McCann's 1969 live recording (with Eddie Harris' electrifying sax) Swiss Movement. By the way, the other co-producer was Dorn's mentor Neshui Ertegun, who was mostly responsible for bringing a young Dorn to New York City.
<![if !supportEmptyParas]> <![endif]>
<![if !vml]>
<![endif]>
Les McCann backstage at the Joel Dorn Memorial
Backstage at the memorial Joel Dorn stories flew all over the place; it was especially neat to watch Dr. John, Quezergue, and McCann all sitting together reminiscing about Dorn. I also had a brief moment to chat with another legendary producer, Stewart Levine, who also recounted stories of first meeting Dorn in Philadelphia when Dorn was a DJ at WHAT.
It was a great evening of music and all had a touching time. I am sure that the Masked Announcer (aka Joel Dorn) was smiling down at us. Most importantly, "Keep a light in the window" (Dorn's radio signoff).
Bob Putignano is a contributing editor at BluesWax. You may contact Bob at: bob8003@yahoo.com web site: www.SoundsofBlue.com
.
<![if !supportEmptyParas]> <![endif]>