2015 Stocking Stuffers
" For Heightened Holiday Cheer "
A Half Dozen Grab-bag CD's

The Soulful Strings "The Magic of Christmas" www.RealGoneMusic.com Originally issued via the Cadet subsidiary of Chess Records this collection makes its debut on CD. Chess/Cadet house-band studio players; harpist (not harmonica) Dorothy Ashby, Charles Stepney, Lenard Druss, Bunky Green, Phil Upchurch, Cleveland Eaton, Bobby Christian's vibes, Ronald Steele and others were assembled by Richard Evans "the creator of the Cadet Records sound. Steele's music can be described as soulful music knitted together with a string section performed by jazz musicians. What you get is a combination of strings, woodwinds, percussion, horns, guitar, bass and drums, and even Ron Steele's electric sitar. The arrangements run amuck on "Deck the Halls" to a funky "Santa Claus is Coming to Town" highlighted by the outstanding cello work by bassist Cleveland Eaton. The funk ensues on "Jingle Bells," with drummer Morris Jennings and top-shelf guitarist Phil Upchurch, and a soulful and breezy rendition of Mel Torme's "The Christmas Song." The album closes with flute and vibes fronting the march with "Parade of the Wooden Soldiers."
The David Benoit Trio "Believe" featuring Jane Monheit & the All-American Boys Choir. www.Benoit.com – www.ConcordMusicGroup.com David Benoit's collaborative album with vocalist Jane Monheit have released "Believe" a new Christmas album. The pianist's trio includes drummer Jamey Tate and bassist David Hughes and the All-American Boys Chorus on a few songs – including Vince Guaraldi's classic A Charlie Brown Christmas material (on the 50th anniversary of its broadcast.). The opening "Santa Claus is coming to Town" displays Monheit's captivating vocals as Benoit's trio swings mightily like Santa's sleigh. Guaraldi's presence is often evoked including the Benoit original "Just Like Me," co-written with Guaraldi's lyricist Lee Mendelson for the 2015 Peanuts film. "Guaraldi Medley," (without Monheit) is the centerpiece standout that has also been part of Benoit's Christmas concerts for years. "Santa Claus Is Coming to Town" is hot, and cuts with Monheit's scatting as a component of the improvisational segment. "My Little Drum" is Guaraldi's fascinating arrangement of "The Little Drummer Boy" features the chorus along with Hughes' punctuating bassline and Benoit's sparking piano. Mel Tormé's "The Christmas Song" may be over-recorded; seems appropriate to close this first-class Holiday album that's strikingly recorded with bursting tone and depth. "Believe" is top-shelf and greets the Christmas season, it's also Benoit's third holiday disc that's (arguably) but probably his best yet.
Gordon Goodwin's Big Phat Band "A Big Phat Christmas – Wrap This!" www.BigPhatBand.com Four time Grammy Award winner Gordon Goodwin and his Big Phat Band released their first-ever Holiday "A Big Phat Christmas – Wrap This!'" With Goodwin's take(s) on holiday classics "Let it Snow, Let it Snow, Let it Snow" and "Have Yourself a Merry Little Christmas." It also contains ten new charts by Goodwin from the swinging "Santa Baby" to the contemporary "Carol of the Bells" and the Latin-tinged and funky "The Little Drummer Boy." Highlights from the album also include Goodwin's take on John Williams' "Somewhere in My Memory," from "Home Alone," and the super-charged swing of "Do You Hear What I Hear?" with vocal group Take 6. Additionally this album features a top-tier lineup of musicians: Eric Marienthal, Wayne Bergeron, Andy Martin, Bernie Dresel, Brian Scanlon, Jay Mason, Jeff Driskill, Andrew Synowiec, Willie Murillo, Dan Fornero, Francisco Torres, Trey Henry and Joey De Leon. The album is martini-tinged sophistication that would easily make Mr. and Mrs. Claus, their North Pole helpers and the renowned reindeer's Holiday favorite list. "Wrap This!" And place it under the tree.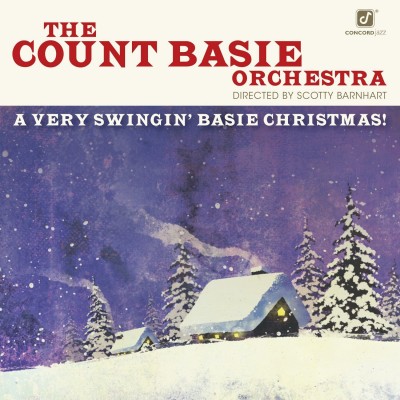 The Count Basie Orchestra – Directed by Scotty Barnhart "A Very Swingin' Basie Christmas!" www.CountBasie.com – www.ConcordMusicGroup.com Celebrating the eightieth anniversary of the Count Basie Orchestra, "A Very Swingin' Basie Christmas!" makes its mark on the Concord Music Group imprint. This album boasts classic holiday songs under the direction of longtime Basie trumpeter Scotty Barnhart, produced by seven-time Grammy winner and former Basie drummer Gregg Field. Guest artists: Johnny Mathis, R&B vocalist Ledisi, veteran jazz pianist Ellis Marsalis, tenor saxophonist Plas Johnson (the soloist on Henry Mancini's "The Pink Panther Theme" and more,) also showcases the multi-Grammy winning Basie composer-arranger Sammy Nestico. The album is (naturally) steeped in Blues, holiday romps that will please old-school Basie aficionados and likely new fans as well. The band opens with a hard swinging and kicking "Jingle Bells" featuring a trumpet solo by Bruce Harris, that's tightly arranged by Nestico who returns to the band after thirty-five year hiatus. Ellis Marsalis introduces "Let It Snow," propelling the drive with the rhythm team of drummer Clayton Cameron, bassist Marcus McClaurine, and guitarist Will Matthews, arranger Kris Johnson also takes a trumpet solo. "It's the Holiday Season" sports Mathis' voice alongside Gordon Goodwin's smart chart. Barnhart tenderly arranged "Silent Night," with alto saxophonist Marshall McDonald. Another concrete Nestico arrangement is the traditional "Good 'Swing' Wenceslas" with Llew Matthews' strident piano and Doug Lawrence's tenor solo. Ledisi illuminates Goodwin's opulent arrangement on "The Christmas Song." "Little Drummer Boy" strolls with Barnhart's heady arrangement setting up solos from pianist Matthews, baritone saxophonist Jay Brandford, piccolo player Cleave Guyton, Jr., drummer Cameron, and trumpeters Endre Rice and the arranger. The Goodwin arranged interpretation of "Sleigh Ride" stuns with assistance from trombonist Wendell Kelly, baritone saxophonist Jay Brandford, and trumpeter Barnhart. Long-time Basie vocalist Carmen Bradford rejuvenates Frank Foster's arrangement of "Have Yourself a Merry Little Christmas." Barnhart's glistening arrangement of "Winter Wonderland," demonstrates his sumptuous trumpet playing. Lastly the bonus-track gift from the Basie unit "I'll be home for Christmas" invites and Ellis Marsalis' piano whose brief solo intros the theme before the entire big band chimes in, Marsalis goes on soloing over the popping Barnhart horn charts as does Plas Johnson's sax.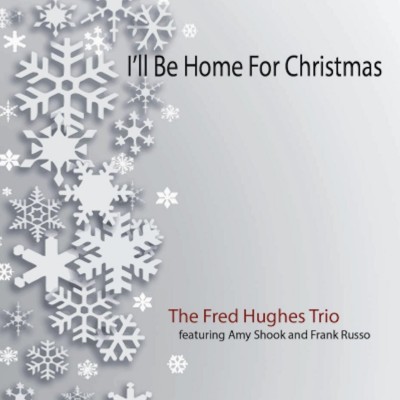 The Fred Hughes Trio "I'll Be Home for Christmas" Shore Thing Records www.FredHughes.com The Fred Hughes trio consists of Hughes piano, Amy Shook's standup bass, and Frank Russo's drumming. It's a solid swinging affair that will boost your Holiday spirits that opens with a breezy rendition of the classic "Winter Wonderland." Also check-out their solid groove on the traditional "O Christmas Tree." It might be irreverent but I really dug the Blues tint that's painted onto "Silent Night." Also note the rollicking swagger on "Santa Claus Is Coming to Town" that glows with a Ho-ho-ho! "Have Yourself a Merry Little Christmas" concludes this fine recording in an upbeat, positive and happy mode.
Ed Palermo "It's an Ed Palermo Christmas! God Bless Us, Everyone" www.PalermoBigBand.com Talk about irreverent, from the fabulously brilliant (and at times warped mind) of Ed Palermo is his Christmas album, and it's delightful. The opening track is (kind of credited) to Tchaikovsky with Palermo altering the title to "The Nutrocker" it's a rollicking hoot to boot. The title track (authored by Palermo) sets the scene like a classic Christmas movie projecting an image of busy shoppers, as the tune unfolds Palermo take us on a glorious and happy jaunt that will put a smile on your face. "Rootny and Scrootny, The Christmas Babies" is a Palermo family dedication to his daughters Molly and Sally and probably wife Susan, it's another captivating adventure that boldly sets sail with intriguing arrangements as the band shifts into a powerful (and at times) fun gear that also has a touching glow. Only Palermo would attempt to meld Hammerstein and Rogers with Frank Zappa, well maybe Zappa might have attempted this at some point too. So here we have "My Favorite Things/Toads of the Short Forest" where the streams crossover (back and forth) seamlessly and are amazingly dazzling. Italian Christmas feasts and gatherings will never be the same after Mike James's (at times adlibbed) humorous vocal read of Lou Monte's "Dominick the Donkey." The Holiday Cheer concludes with a short reprise of the title tune. Food for thought: Down the road, might we convince Palermo to cover some of the Christmas tunes of Spike Jones? Imagine…
Merry Christmas everyone & Happy Holidays, may you all have a peaceful and prosperous 2016. For sixteen years Bob Putignano has been pivotal at WFDU with his Sounds of Blue radio show (Mon. & Wed. 9am-1pm) www.SoundsofBlue.com – Previously a senior contributing editor at Blues Revue, Blueswax, and Goldmine magazines, currently the Music Editor for the Yonkers Tribune www.YonkersTribune.com - www.MakingAScene.org & www.wfdu.fm/Whats-Happening/Bob's Music Reviews/bobs music reviews/ Bob was the 2003 recipient of the "Keeping the Blues Alive" award (given by the Blues Foundation in Memphis) for his achievements in radio broadcasting.
Putignano can be contacted at: bob8003@yahoo.com
Bob Putignano:www.SoundsofBlue.com Wed. & Fri. 9am-1pm: http://WFDU.fm Now celebrating 15 + years on the air in the NYC area Music Editor: www.yonkerstribune.com, www.makingascene.org & wfdu.fm/Whats-Happening/Bob's Music Reviews/bobs music reviews/