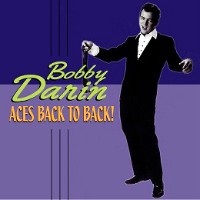 Two legacies continue here, the first being the main subject: Bobby Darin, the second non other than the prolific Joel Dorn who produced this first class package (along with the Darin estates archivist Jimmy Scalia). This CD is further enhanced with intimate liner notes from Dorn on Darin, as well a great journal article found by the daughter of the late great Doc Pomus, which also speaks about Darin in a piece called "Bobby Darin & Me."
The CD kicks off in high gear with a swinging version of Steve Allen's (yes that Steve-A-Reno, Allen) "This Could Be the Start of Something Big" which Joel told me the tune he wanted to open the disk with as he felt that while Darin achieved some degree of acknowledged greatness, he never got all credit he deserved.
Other highlights include: "Can't Take My Eyes Off of You", "All I Have to do is Dream" which is a gorgeous duet with Petula Clark, and a outstanding version of "Beyond the Sea". Also included is what Joel calls the best version ever of "If I Were a Carpenter", a rousing version of Bobby's classic "Mack The Knife", and the heartfelt closing tune from the CD "The Curtain Falls."
If the CD is not enough, the outstanding video and audio quality of the DVD is worth the price of this package all by itself. The first six tunes from the CD are also the first six of the DVD, with Dorn's heartfelt narration, and a great segment with George Burns who speaks about when Bobby blew far too much money at a Las Vegas casino. Not only does the DVD portray Bobby's vocal & showmanship talents in performance, but there are also clips of Bobby playing incredible acoustic guitar, grooving piano, and Darin is shown wailing away on the drums, showing what an incredible multi-faceted talent Bobby Darin was!
A lot of well thought out effort went into the making of this recording. An emotional Dorn really is hoping that Darin will finally get what Dorn calls "Bobby's cookies" meaning that he hopes Bobby finally gets elevated to the status Darin never fully received while he was alive. Simultaneously in conjunction with the release of the CD/DVD "Aces Back to Back" the Kevin Spacey "Bobby Darin, Beyond the Sea" movie is about to be released, which should also help Bobby's cause in notoriety. Additionally, it's so neat to have the DVD included, as the video really shows the magnetism and dynamics Bobby exuded, complete with Dorn playing the part of narrator.
Long time Darin fans will love this two-disk set, others new to Bobby should also take note! Bobby Darin was definitely the real deal, check it out and enjoy.
Happy listening,
Bob Putignano
President NY Blues & Jazz, and radio
host @ WFDU's, "Sounds of Blue"