Alex Chilton and His Rhythm Section
"Boogie Shoes: Live on Beale Street"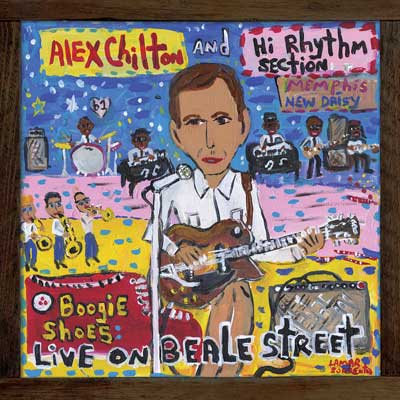 There's an interesting backdrop as to how this live performance was conceived. Memphis legend Fred Ford developed cancer and local musicians and fans united to organize a benefit concert for Ford. The organizers (musicians & David Less who also wrote these informative liner notes) asked Alex Chilton (who previously worked with Ford) to play, but Chilton didn't have a Memphis band to perform with. That's when the legendary Hi Rhythm Section (who famously backed Al Green, Otis Clay, Ann Peebles, Ike & Tina Turner & O.V. Wright) were employed to back Chilton at the New Daisy Theater on Beale. So the stage was set for October 7th, 1999, Rufus & Carla Thomas were the headliners; "Alex Chilton with the Hi Rhythm Section, with special guests Jim Spake & Scott Thompson," came on prior to Rufus & Carla. Chilton's band-mates were: guitarist Maybon "Teenie" Hodges, keyboardist's Charles Hodges & Archie "Hubie" Mitchell, bassist Leroy Hodges, and drummer Howard Grimes. Chilton also brought along a horn section with Jim Spake, Roland Kirk Smothers and Scott Thompson.
Chilton's set didn't include any of his Box Tops or Big Star hits, in fact each & every tune performed that night was not written by Chilton. So the set consisted of Soul, Blues, Rock and Roll and Disco tunes that are (mostly) well-known classics. The opener "Boogie Shoes" was authored by Henry Wayne Casey and Richard Finch of the Disco KC and the Sunshine Band; Chilton had previously covered this tune on his 1979 "Like Flies on Sherbet" from 1979. Memphis' Isaac Hayes authored "Precious, Precious" reeks of Stax Tennessee Soul from the heart of Soulsville. Steve Cropper's & Eddie Floyd's "634-5789" is another delightful stroll though Stax gems that gets amped up when Chilton calls out to band to kick it up a half-step as he unleashes a searing & funky guitar solo. Chilton temporarily departs Memphis for Lieber & Stoller's "Kansas City" as the band settles into a romping & entertaining groove. Then it's onto the Big Easy with Richard Penniman (Little Richard) & Albert Collins' "Lucille" that pumps & percolates much like it did at Cosimo Matassas' J&M studios from the Crescent City. It's the "Big Boss Man" authored by Luther Dixon & Al Smith that Chilton & the Hi Section get down & dirty with, though Holland, Dozier & Holand's "Where Did Our Love Go" is odd. Chilton reaches out for Chuck Berry and I'm figuring it's going to be "Memphis" instead it's "Maybelline" that gets a rip-snorting guitar blast. Fats Domino's & David Bartholomew's "Hello Josephine" is lengthy (7 minute+) Reggae stretch-out that's uneventful. The nearly forty-five minute set concludes with Eugene Williams' Soul chestnut "Trying to Live My Life without You," that dots the (I's & T's) to a interesting set of well crafted music.
In summary: Alex Chilton and the Hi Rhythm section mesh wonderfully on this nearly twenty-two year old recording. Kudos to Omnivore for unearthing this fine night of music that's been sleeping in someone's recording vault for far too long.
Dig Chilton's "Boogie Shoes" trailer: https://www.youtube.com/watch?v=vTW7Sqf1Blk
Bob Putignano: Homegrown & On-Demand Sounds of Blue Radio Shows:
24x7 at: http://www.soundsofblue.com/radio-show/ with 100,000+ web hits per month
Every Friday at John Sinclair's: https://radiofreeamsterdam.org/shows/sounds-of-blue/
Yonkers Tribune Music Editor: www.YonkersTribune.com Friend me on: Bob Putignano