Chuck Berry
"Hail Hail Rock 'N' Roll NEW Collectors Edition BLU-Ray "
www.ShoutFactory.com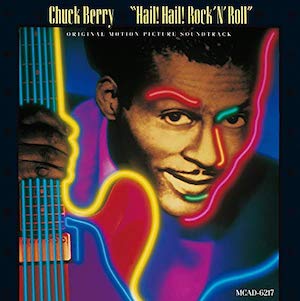 "Hail! Hail! Rock 'n' Roll" is a 1987 documentary video that was directed by Taylor Hackford; chronicling two 1986 Saint Louis, Missouri - Fox Theatre concerts to celebrate the music of one of rock & roll's founding fathers. The concert performances were captured for Chuck Berry's (then) sixtieth birthday. The original audio-video was released in 1987 as well as a soundtrack audio album. This brand-new Shout Select edition marks its debut on Blu-ray disc.
The legendary Keith Richards of the Rolling Stones assembled and produced Berry's band with a select crew of musicians consisting of Richards' guitar, Berry's longtime pianist Johnnie Johnson, Sea Level and Allman Brothers Chuck Leavell keyboards, NRBQ bassist Joey Spampinato, another Rolling Stone Bobby Keys on sax and drummer Steve Jordan. Many guest appearances include performances by Etta James, Eric Clapton, Robert Cray, Linda Ronstadt, and Julian Lennon. There's also archival footage of Berry from the early 1950's, plus a duet with Berry and John Lennon. I suspect you will also enjoy the behind the scenes segments, the lengthy and informative interviews with Willie Dixon, Bo Diddley, Little Richard, Jerry Lee Lewis, Roy Orbison, the Everly Brothers, Sam Phillips and Atlantic Records Ahmet Ertegun. Plus an inside look (fifty plus minutes) of really cool rehearsal sessions with Berry, Richards,' Clapton, Etta James and others. Some of the (other) guest musician concert performances initially seemed like odd choices, though I have to say that their performances came off as being genuine and sincere.
Bottom line: The preferred way to hear Chuck Berry's greatest tunes is to listen to Berry's original Chess Records recordings. Though having this (nearly) thirty-four year old documentary serves as a fitting tribute to one of the originators of Rock 'N' Roll; especially now considering Berry's 2017 passing. That being said: "Hail! Hail! Rock 'N' Roll" is a wonderful romp through Berry's amazing and classic catalog of forever memorable American tunes. Enjoy
Bob Putignano can be contacted at: BobP@SoundsofBlue.com