Grateful Dead
"Dave's Picks Vol.16" Springfield, MA 3/28/73 <3CD's>"
www.Dead.net – www.Rhino.com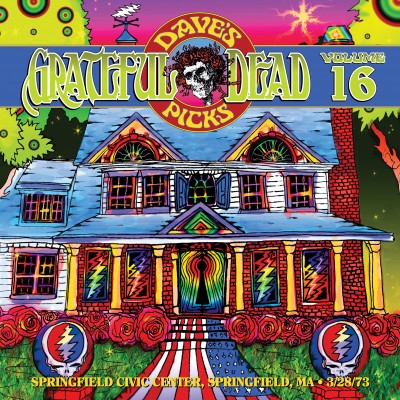 Dave's Picks 16 completes the 2015-fourth round of the latest series (four new box-sets of full performances are issued annually) with a show from Springfield, MA recorded 3/28/73 that requires three CD's to capture this lengthy performance.
Disc One: Trots out familiar first set regulars that aren't road weary yet, many of these versions possess fresh enthusiasm like the perky "Cumberland Blues." Even tunes like "Here Comes Sunshine" rarely a favorite of mine that typically plods, prompts tasteful interplay that also swings. There's also an early version of "U.S. Blues" titled here as "Wave that Flag" is punchy and offers a peek at how the song evolved into to one of their repertoire mainstays for the Dead's remaining two decades. Phil Lesh fans will probably also enjoy his "Box of Rain," while I've always admired Lesh's bass playing, I never welcomed his lead or background vocals.
Disc Two: Continues the first set with a somewhat rare rendition of "You Ain't Woman Enough" featuring Donna Jean Godchaux's lead vocal. A so-so: "Looks Like Rain" follows, but a rousing "China Cat Sunflower" segue with the traditional "I Know You Rider" ends the first set. The second set opens with Chuck Berry's "Promised Land," followed by an early "Loose Lucy" that finds Garcia in a suggestively bawdy mood, both with his vocal and very bluesy guitar work that I thoroughly enjoyed. Uncharacteristically the second set utilizes many well-known first set tunes; "Me and My Uncle," the traditional "Don't Ease Me In," "The Race is On," a potent cover of Johnny Cash's "Big River" and a sleepy "Mississippi Half Step Uptown Toodeloo" that goes on for far too long.
Disc Three: The third disc contains the completion of the second set that commences with a short (but gorgeous) instrumental "Weather Report Suite Prelude" that smoothly shifts into a humongous "Dark Star" (31:46) that contains bright moments, but it doesn't favorably compare with many other versions. "Dark Star" eventually morphs to a pretty "Eyes of the World" (12:51,) into almost sixteen minutes of "Playing in the Band" that neatly concludes this extensive non-stop/four song jam that takes over an hour to complete. There is an encore; (Chuck Berry again this time with the classic "Johnny B. Goode."
This is an interesting Dave's Picks, it captures the band with an almost bottomless pit of new and old songs plus several cover tunes to choose from to perform. It was also a robust songwriting era for the band, and they created crafty (but not their best) jams here. That being said it's interesting to note that Ron "Pigpen" McKernan had passed on about one month prior to this performance. Not only did the band stay on the road – they were also changing directions and filling Pigpen's void. Additionally; about a year and a half afterwards (at the end of 1974,) the Dead disbanded into a self-imposed retirement; albeit brief. So there had to be a multitude of behind of the scenes scenarios in play. Remember that until his deteriorating health Pigpen was their go-to vocalist who knew how to work a crowd. Which begs the question; was his demise part of the equation that brought-on their 1975 hiatus? Nonetheless; through it all the Dead rose above their challenges and were able to regroup in '76 as one of the most successful touring bands of all-time. As evidenced here; they also played with creative enthusiasm throughout 1973 and onward as well.
For sixteen years Bob Putignano has been pivotal at WFDU with his Sounds of Blue radio show (Mon. & Wed. 9am-1pm) www.SoundsofBlue.com – Previously a senior contributing editor at Blues Revue, Blueswax, and Goldmine magazines, currently the Music Editor for the Yonkers Tribune www.YonkersTribune.com - www.MakingAScene.org & www.wfdu.fm/Whats-Happening/Bob's Music Reviews/bobs music reviews/ Bob was the 2003 recipient of the "Keeping the Blues Alive" award (given by the Blues Foundation in Memphis) for his achievements in radio broadcasting.
Putignano can be contacted at: bob8003@yahoo.com
Bob Putignano:www.SoundsofBlue.com Wed. & Fri. 9am-1pm: http://WFDU.fm Now celebrating 15 + years on the air in the NYC area Music Editor: www.yonkerstribune.com, www.makingascene.org & wfdu.fm/Whats-Happening/Bob's Music Reviews/bobs music reviews/