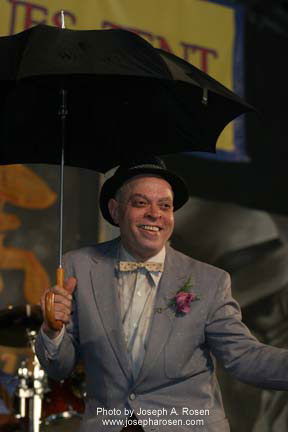 Jazz Sides: Deacon John Moore
by Bob Putignano.
Taken from the March issue of Goldmine Magazine
One would think after having played and recorded with Allen Toussaint, Dr. John, Henry Butler, Fats Domino, Aaron Neville, Little Richard, Johnny Adams, Irma Thomas, Wardell Quezergue, and so many of the great New Orleans artists that Deacon John would be more of a household name. Up until the first quarter of 2003 Deacon was nationally and internationally mostly unknown, that is unless you had the pleasurable experience of seeing Deacon perform in New Orleans, (often as a headliner at the New Orleans Jazz & Heritage Festival) you are probably not aware of the brilliance of Deacon John.
Since the June 2003 release of the live DVD/PBS special and CD release of "Jump Blues" both on the VCC label, (www.VetterCommunications.com), life has really changed for Deacon. With rare out of New Orleans gigs at the Towaco Jazz Fest in New Jersey, and at Mountain Stage WV, which will be a two hour national broadcast in Jan 2004, a appearance on Nick Spitzer's nationally syndicated radio show, "American Routes", and to top it off , Deacon was the closing feature on one hour New Orleans TV show on the ABC network's "PrimeTime" which aired coast to coast on a Monday night from 9-10pm, in October 2003.
Not many blues performers get this kind of media coverage, which speaks volumes about Deacon John and the "Jump Blues" project! What is puzzling, is during this years selection process for The Blues Foundation's Handy Awards, (which I am proudly part of the nominations committee), Deacon's name only turned up once in a category for best comeback artist of the year. One would think with the blues industry which is having its share of issues in retaining and expanding its listener base, I would have thought the nominating committee would have jumped all over Deacon in at least 3-4 categories, specifically for Best CD of 2003.
It's been a pleasure working with Deacon's team at VCC, especially Glen Prejean and Cyril & Gabrielle Vetter. Getting to know Deacon has been a special experience for me, bringing him to the Towaco Jazz Fest (with Cosimo Matassa), and hanging with him to hear him talk about all the great New Orleans historical stories he shared with me. It was both educational and a joy and honor for me to be a part of.
You have to tell me Deacon, how did John Moore become Deacon John? Al Miller who was Professor Longhair's drummer and also a trumpet player in Roy Brown's band gave me the name. You know the Roy Brown song "Good Rockin' Tonight"? Tthere is a line in it, which goes "Deacon John and Elda Brown, two of the slickest cats in town." I hated the name! But the band wanted a distinctive name when I was with The Ivories. Well anyway, I was doing a bit of preaching stuff in those days, so the name stuck, and here I am, with no regrets! (Laughs)
Who gave you your first break? Allen Toussaint! Who saw me one night at the Dew Drop Inn in New Orleans, and felt I was a hot guitar player. Two to three days later Allen invites me to record at Cosimo Matassa's J&M recording studio at 838–840 North Rampart Street Quarter,( which was officially designated as an historic site on the 50th anniversary of the first recording session there by Antoine "Fats" Domino and Dave Bartholomew on December 10th, 1949). And most significantly, Allen paid union scale wages, wow!
When did these first sessions begin for you, and how many recordings were you on? Oh man, there must have been several hundred sessions at Cosimo's recording studio, and this all started around 1958-59, when I was about 17-18 years old.
Please tell me about some of the recording sessions you played on? Well I have been on sessions with: Irma Thomas, Aaron Neville, Johnny Adams, Dave Bartholomew, I also recorded on Ernie K-Doe's "Mother in Law," Lee Dorsey's "Workin' in a Coal Mine" and Irma Thomas' "Ruler of My Heart", as well as Chris Kenner's "I like it like that", "Ride Your Pony", "Land of a 1,000 Dances", and Robert Parker's, "Barefootin". In fact, the only thing separating me from the list of all-time R&B greats is the missing ingredient of a hit record of my own.
How many releases of your own did you have from the late 50's into the early 80's? Ha! Just three 45 singles!
I have always been a big fan of Wardell Quezergue who I think is a genius, how did you guys hook up? Wardell is a genius! We have known each other since I was a child. Wardell actually did the string arrangements on my first recording, "When I am with you" which was recorded on the RIP label in 1961. We are life long friends, and it was great to record with him on this years "Jump Blues" project, but we have always collaborated over the years. He has got to be one of the most respected musician/arrangers who is held in high esteem by anyone who has ever worked with him or who had the pleasure of knowing him.
How did the "Jump Blues" project begin? Funny you should ask, as my producer Cyril Vetter saw me performing in front of Wardell's big band at the Big Easy awards and was blown away. So Cyril got this vision to pay homage to the indigenous culture of New Orleans artists, song- writers, and producers, using me as a centerpiece.
Please tell me more about what is in store for Deacon John's Jump Blues? Well we are through the first two phases. The first being the studio CD recording, and the second being the DVD live performance, which was aired by PBS around the country. The third and final phase will be a film which will be released at the 2004 New Orleans Jazz & Heritage Fest, which will feature concert footage and interviews, new and old of: Professor Longhair, Lee Allen, Dave Bartholomew, Irma Thomas, Cosimo Matassa, Earl King, Johnny Adams, Henry Butler, The Zion Harmonizer's, Dr. John, and a piece on second line drumming. Generally the history and culture of New Orleans music. 2004 should be quite a year for me, perhaps more so than 2003.
I have to agree with Deacon that 2004 will be a very good year for both Deacon and New Orleans music. Finally, the rich musical culture of New Orleans is finally being captured and documented. Not since John Broven's book, "Rhythm & Blues in New Orleans" has there been so much effort devoted to perhaps one of the most significant pieces of American music and history. It's about time!
Bob Putignano
Radio Host WFDU's "Sounds of Blue"
President of the NY Blues and Jazz Society