Delbert McClinton & Friends
" Sandy Beaches Cruises January 5 through 12, 2019 "
www.Delbert.com - 1-800-Delbert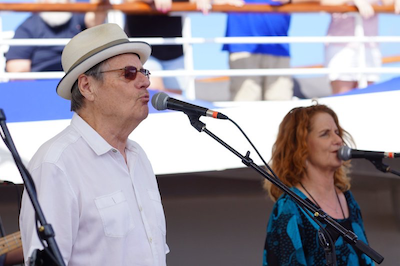 This year's cruise brought back many familiar faces: Teresa James, Marcia Ball, The McCrary Sisters, Etta Britt, Marc Broussard, Lee Roy Parnell, Big Joe Maher with his Rock House Party Band featuring Anson Funderburgh, Mingo Fishtrap, Gary Nicholson, Big Al Anderson, Bruce Channel, Wayne Toups, The Mavericks, Red Young, The Band of Heathens, and of course Delbert McClinton who continues to astonish. Kim Wilson fronted his Fabulous Thunderbirds last year, reappeared for 2019 as a featured solo guest. Curtis Salgado was a featured solo guest last year but this time around he had his entire band.
Delbert's twenty-fifth cruise was the first time I've seen: Carolyn Wonderland, The California Honeydrops, Shinyribs, Bill Kirchen, and Eric Lindell, though I know Lindell had performed on one of Delbert's cruises previously. From this batch of newcomers, Shinyribs (aka Kevin Russell) was my favorite band; nine pieces in all, this crew caught me off guard as I knew nothing about them. I happened to catch the end of their set one night, and had to come back for a full performance. Shinyribs is originally from Texas then his family moved to Shreveport, Louisiana, their songs cover various genres from old-time rock and roll, to deep soul and even country tunes. The front-man Shinyribs plays good guitar and possesses a powerful set of lungs, all in all they are a very entertaining bunch that hopefully will return next year.
I have seen Carolyn Wonderland in the past in NYC, she's smoking Blues guitarist with vocal chops to match. Her performances were (as expected) fiery and breathtaking, this Austin based blues rocker won over a large amount of cruisers with her own band performances, and with her guest spots as a featured guitarist. Oh, she also recently joined with Blues legend John Mayall's band and will be touring with the fabled Mayall for a good part of 2019.
Another fine addition were the California Honeydrops who hail from Oakland, CA. these youngsters have great energy, they also have know how to get people on the dance floor mixing old-school Rhythm and Blues, New Orleans funk, Southern Soul and even a bit of lowdown Blues. These Honeydrops created a good buzz amongst the cruisers who had high admiration for their shows, so much so; I'd suspect they'll be back on Delbert's Sandy Beaches Cruises high seas again and again.
As for the returnees: The Band of Heathens always perk my ears and make me smile as these youngsters continue to mature and grow.It was also sweet to see Curtis Salgado fronting his own band. I've admired and watched Salgado for decades, first seeing him long ago as a lead vocalist for Roomful of Blues, then onto his own successful solo career. Salgado always packs a good vocal punch with his energetic performances, which were further enhanced when he invited Anson Funderburgh to sit in. After many years of critical acclaim, it's also good to see Curtis receiving well-deserved (2017) awards for best album, best song, and best Blues Soul artist of the year from Memphis' Blues Foundation, that's a heck of a trifecta.
Lee Roy Parnell was not on-board last year, but he was back for this edition. Parnell's always a favorite, as he also knows how to conduct and preside over an exuberant party atmosphere. Parnell also enlisted the services of guitar ace Anson Funderburgh and really ignited the stage with a superb "T-Bone Shuffle."
Last year I only saw bits and pieces of Marc Broussard's band, and was delighted that he was signed up for this years voyage. This cat has a sharp band of Louisiana musicians who are not only attentive players, they all sing and fill-in on vocals. Speaking of filling in, Broussard also called up the horn players (Steve Butts and Dan Bechdolt) of Mingo Fishtrap and their solid keyboardist (Dane Farnsworth) who all added depth and color to Broussard's band. Mr. Broussard is not yet forty years old though he understands and features music from around the time he was born, like Al Kooper's classic "I Love You More Than You'll Ever Know," Marvin Gaye's "Inner City Blues," Al Green's "Love and Happiness," Jerry Butler's and Otis Redding's "I've Been Loving You Too Long," Luther Ingram's and Mack Rice's "Respect Yourself," and Louisiana legend Allen Toussaint's "Yes We Can, Can" made enormously successful by the Pointer Sisters. Not taking away from Broussard's own writing abilities, his performances were stunning, even mesmerizing as he wowed the crowd with his glowing and distinctive groove.

Bob Putignano: Homegrown & On-Demand Sounds of Blue Radio Shows: Always on 24x7 at: www.soundsofblue.com/radioshowsmp3.htm
Now available at: www.TaintRadio.org every: Tues & Thurs
And every Friday @ John Sinclair's: www.RadioFreeAmsterdam.com
Music Editor for the Yonkers Tribune Newspaper:
www.YonkersTribune.com/?s=bob+putignano&submit=Search
Friend me on: https://www.facebook.com/bob.putignano.1
17 years of on-air fundraising = $250,000 - DJ/host for 19 years