Delbert McClinton & Self Made Men
" Prick of the Litter "
Hot Shot Records - www.Delbert.com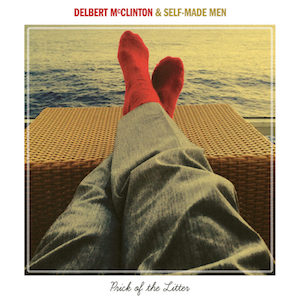 Delbert McClinton defies age as singer and songwriter on "Prick of the Litter" his first for (I believe his own label) Hot Shot Records. It's co-produced by Delbert with longtime band-mates keyboardist Kevin McKendree and guitarist Bob Britt.
From the opening "Don't Do It" (authored by McClinton and another longtime associate Gary Nicholson) is instant Lone Star party time with guests Lou Ann Barton and Jimmie Vaughan, the entire band is in the pocket and is bolstered by sharp horn charts as well. The ballad "Middle of Nowhere" (by McClinton, McKendree and another crony Glen Clark) is cute and pretty, with background vocalists Vicki Hampton and Wendy Moten. The "Middle of Nowhere" songwriting crew provides a gritty grove on "Skip Chaser" and features Big Al Anderson's guitar. McClinton, McKendree and Clark also contribute "San Miguel" with a mood that's light, breezy and tasty; note McKendree's bright and right piano notes on this lighthearted delight. Similarly relaxed is McClinton, Britt and new bassist Mike Joyce's "Pulling the Strings" where McKendree (again) chooses every correct note(s) from his eighty-eights. Delbert's "Neva" is quick at just (2:34) but brings the funk with solid support from McKendree, Britt, Joyce and drummer Jack Bruno. Trumpeter Tim Ouimette wrote "Jones for You" is right out of the Satchmo mode, including Ouimette's Louie like trumpet soloing that ensues throughout. Whew checkout Percy Mayfield's "The Hunt is On" with dueling keyboards of McKendree and Jerry Z who layer the foundation for Delbert to croon and for McKendree to double with a heady guitar solo too. The album closes with the smoky "Rosy" authored by McClinton, Britt and Joyce, sounding like it was recorded late at night with nightcaps of cognac for everyone in the band.
McClinton doesn't break new ground on "Prick of the Litter," though it is Delbert's most unique and distinctive recording to date. On its own shrewd merits the sum of its parts is intellectually strong and refined. This new (unusually titled) litter originates from a legend that consistently identifies how to work and evolve his craft. And there doesn't seem to be any dry-spells ahead. Bring it on and on.
For 17 years Bob Putignano has been pivotal with his Sounds of Blue radio show. Hear new Homegrown Sounds of Blue internet radio shows: http://soundsofblue.com/radioshowsmp3.htm Previously a contributing editor at Blues Revue, Blueswax, and Goldmine magazines, currently the Music Editor for the Yonkers Tribune www.YonkersTribune.com & www.MakingAScene.org Bob was also the 2003 recipient of the "Keeping the Blues Alive" award (given by the Blues Foundation in Memphis) for his achievements in radio broadcasting. Putignano can be contacted at: BobP@SoundsofBlue.com