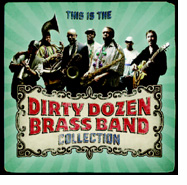 "This Is The Dirty Dozen Brass Band Collection"
Goldmine Magazine September 2005
Isn't it about time after nearly 30 years of performing with many notable musicians and bands and on their own- that The Dirty Dozen finally has its own best of compilation CD.
High notes from this genre diverse compilation include the concert crowd favorite "Feet's Don't Fail Me Now" from the CD of the same name on Concord Records, which is long out of print. "Oop Pop a Dah" with the legendary Dizzy Gillespie on vocals and trumpet. The Meters funky "Cissy Strut" with Robert Randolph playing pedal steel guitar. Marvin Gaye's soulful "Inner City Blues." The sexy Don't You Feel My Leg" with Eddie Bo. Jelly Roll Morton's peculating "Freakish" and the classic NOLA party time hit "Mardi Gras in New Orleans."
I don't think you'll need more reasons to purchase this CD, that is unless you already have these tracks in your collection. And by all means see the DDBB next time they are in your area, the as they will make you dance and smile!
Bob Putignano
President NY Blues & Jazz, and radio
host @ WFDU's, "Sounds of Blue"