FM 2019 Blu - ray Edition
"Arrow Video "
MVD Entertainment Group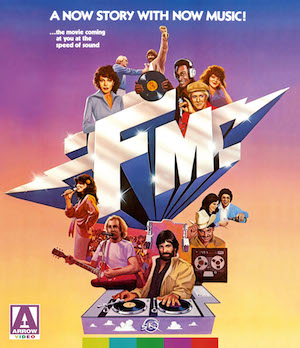 Originally released in 1978 "FM" made quite the splash on silver screen, forty plus years afterward "FM" makes its Blu-ray debut in High Definition audio/video transferred from the original High Fidelity tapes. This new edition also includes special content with recently filmed interviews with "FM" lead actor Michael Brandon, "FM's" writer Ezra Sacks, and music critic Glenn Kenny who provides track by track observations about most if not all of the songs used in the video. By the way: Mr. Kenny's comments are easily the most informative and insightful from the recently added footage.
Those of us who grew up during the 1970's classic rock era of FM radio will absolutely adore "FM." You might recall the storyline of Los Angeles' (fictional) number one rated Q-SKY radio, their program director Jeff Dugan played by Michael Brandon who employs DJ's: Mother (Eileen Brennan,) Eric Swan (by the delightful Martin Mull,) and their overnight radio host: Prince of Darkness (Cleavon Little.) All is going very well at Q-SKY especially in the midst of their sky-ratings. Unfortunately changes occur when the corporate honchos plot for larger profits, who greedily plan to start selling excessive advertising commercials, with less DJ chatter and reduced music airtime content. Sound familiar? The station staff isn't about to lay-down and let the corporate suits have their way because they all have a likeminded unified consensus; that freeform FM radio had the ability to bring people together: And it did. Unfortunately this immensely popular and creative music format; is now a bygone era, and is now virtually nonexistent.
Throughout: "FM" is a flashback blast of reel to reel tape recorders, boom microphones, piles of vinyl, spinning turntables, phonograph needles, forty-five spindles, and even a short segment shot in front of the iconic Tower Records. Plus classic-rock 1970's music performed by well-known artists; Bob Seger, Tom Petty, Joe Walsh, Steve Miller, the Eagles, Boz Scaggs, Dan Fogelberg, Boston, Jimmy Buffett, Billy Joel, the Doobie Brothers, Fleetwood Mac, Foghat, and the authors of "FM," and the instrumental "FM-Reprise" by Steely Dan. There's also wonderful simulcast concert footage from a Linda Rondstadt concert (with Waddy Wachtel's guitar.) Even the great B.B. King (audio) is heard performing "The Key to My Kingdom." Plus other titles that did or did not make it onto the original double LP audio soundtrack release.
No static at all indeed. This reissue is a nostalgic stroll down memory lane. Recommended viewing that should be regularly repeated, and enjoyed.
For 20 years Bob Putignano has been pivotal with his Sounds of Blue radio show. Hear new Homegrown Sounds of Blue internet radio shows: http://soundsofblue.com/radioshowsmp3.htm and at John Sinclair's www.RadioFreeAmsterdam.com & www.TaintRadio.org Previously a contributing editor at Blues Revue, Blueswax, and Goldmine magazines, currently the Music Editor for the Yonkers Tribune www.YonkersTribune.com  Bob was also the 2003 recipient of the "Keeping the Blues Alive" award (given by the Blues Foundation in Memphis) Putignano can be contacted at: BobP@SoundsofBlue.com