STAN GETZ GETZ/GILBERTO
"76 & MOMENTS IN TIME"
www.ResonanceRecords.org

During a week run at the now defunct Keystone Korner in San Francisco, California a series of concerts were recorded and are finally making their commercial debut. "Getz/Gilberto '76" and "Moments in Time" have been simultaneously issued as two distinct CD releases. Both of these recordings utilize the same Stan Getz backing band of pianist Joanne Brackeen, drummer Billy Hart, and bassist Clint Houston. During this time period Getz and Gilberto were promoting the release of Getz's reunion album with Brazilian singer/guitarist João Gilberto, 1976's "The Best of Two Worlds." Therefore it was logical and shrewd marketing having Getz and Gilberto taking it to the stage to bring attention to their current LP. It was also over a decade since they made music history with 1964's groundbreaking "Getz/Gilberto" album. The performances you'll hear are taken from shows that took place during May 11-16, 1976. It would also document one of the few times they performed together live. It's alluring to hear how the band reacts to Gilberto's tender and renowned vocals and his firm guitar rhythms that echo the gorgeous glow of their original 1964 album. Note: This "Getz/Gilberto '76" release comes over fifty years after the release of Gilberto and Getz's million-selling and Grammy award winning 1964 album "Getz/Gilberto," and its 1966 follow-up "Getz/Gilberto #2" both were originally released on the Verve Records label and have since been reissued many times over – timeless music.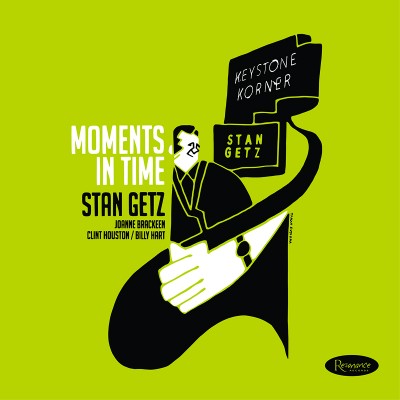 The companion Resonance Records release to 'Getz/Gilberto '76'," is: "Moments in Time' that contains newly unearthed music by the Stan Getz Quartet featuring the same backing trio as on "Getz/Gilberto '76." This instrumental recording illustrates the only time that these distinctively adventurous band unit/configuration were recorded together as this special edition of the Stan Getz quartet. Getz's backing (and youthful) trio of Brackeen, Hart, and Houston are solid throughout. Covers tunes by Kenny Wheeler's "The Cry of the Wild Goose," Wayne Shorter's "Infant Eyes," Horace Silver's "Peace," Dizzy Gillespie's "Con Alma," Duke Ellington's "Prelude to a Kiss," and Jimmy Rowles' and Johnny Mercer's "Morning Star," all offer innovative and mid-seventies contemporary sounds of the era. The quartet also regularly explore rhythms that are boundless that are filed with telepathic interplay with expressive and highly imaginative improvisation.
Both of these deluxe CD's include lengthy (twenty-eight page and thirty-two page) booklets with compositions by the jazz journalist Ted Panken, Steve Getz, band members Joanne Brackeen, Clint Houston and Billy Hart, producers Zev Feldman and Todd Barkan, as well as statements from contemporary saxophonists Joshua Redman and Branford Marsalis. Also featured are rare and previously unpublished photos from the archives of acclaimed music photographer Tom Copi. The front covers come with the distinctive artwork of Japanese artist/designer Takao Fujioka for the "Moments in Time," and by Olga Albizu (1921-2005) for "Getz/Gilberto '76." They are both endorsed by the Stan Getz Estate.
For sixteen years Bob Putignano has been pivotal at WFDU with his Sounds of Blue radio show (Mon. & Wed. 9am-1pm) www.SoundsofBlue.com – Previously a senior contributing editor at Blues Revue, Blueswax, and Goldmine magazines, currently the Music Editor for the Yonkers Tribune www.YonkersTribune.com - www.MakingAScene.org & www.wfdu.fm/Whats-Happening/Bob's Music Reviews/bobs music reviews/ Bob was the 2003 recipient of the "Keeping the Blues Alive" award (given by the Blues Foundation in Memphis) for his achievements in radio broadcasting.
Putignano can be contacted at: bob8003@yahoo.com
Bob Putignano:www.SoundsofBlue.com Wed. & Fri. 9am-1pm: http://WFDU.fm Now celebrating 15 + years on the air in the NYC area Music Editor: www.yonkerstribune.com, www.makingascene.org & wfdu.fm/Whats-Happening/Bob's Music Reviews/bobs music reviews/