Grateful Dead
"Dick's Picks Volume 13 Nassau Coliseum 5/6/81 "
www.RealGoneMusic.com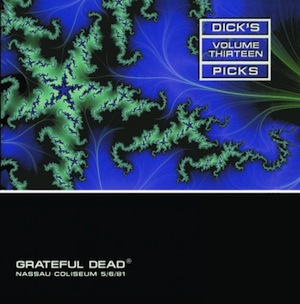 This is only the second of the (than) thirteen Dick's Picks series that Dick Latvala selected from the eighties. Latvala kept no secrets about his preferences for early seventies sets, and was quoted "the eighties are a challenge for anyone." I concur with Latvala as the Dead's prowess was quickly evaporating from their extensive and unabashed drug abuse, especially Garcia's.
Disc one is the first set in its entirety, and it's unspectacular, the lowest moment occurs on yet another hideous cover of Willie Dixon's "Little Red Rooster." The only notable moment is on Weir's "Let It Grow." Disc two starts the second set, and the standout is a tender "Lost Sailor" that segues to a snappy "Saint of Circumstance." *Note; there's a hidden track on this disc; "Scarlet Begonias" into "Fire On The Mountain," from November 1, 1979 also from the Nassau Coliseum. But be patient as you have to wait thirty or forty seconds after the completion of "Saint of Circumstance." There's no separate or additional tracking, so it's completely hidden, there's no mention in the (non-existent narrative/essay liner notes) nor is it included with any of the other track listings. Anyway the "Scarlet Begonias jam into "Fire On the Mountain" is a welcome surprise and features a fiery jam/transition, and it clocks in at over thirty minutes in length, explaining the (perceived) brevity of disc two that's listed at just thirty minutes. But with the hidden songs - disc two is actually over sixty minutes of music!
As with many Dead concerts the best is often saved for last: Disc three opens with "He's Gone" that blares into wild and torrid "Caution/Spanish Jam" with Garcia soaring at rapid and rabid warped speed, Weir's sharp guitar chords also intensify Garcia's explosive excursions. (*Note: Supposedly this "Caution" was their final version and was never to be seen or heard again.) Seven minutes of (too long) drumming sets-up a short (almost four minute) "Jam" of Garcia noodling on guitar as a trio with drummers Kreutzmann and Hart, delicately Weir, Lesh and Mydland join-in as Garcia softly teases "The Other One," Lesh' bass explodes into a playful yet trippy (six minute) adaptation. Garcia leads the jam into speedy "Goin' Down the Road Feeling Bad," than touches down on a potent "Wharf Rat." Finally Weir pitches the chords to "Good Lovin'"eventually telling everyone to get stoned right now, then serves up the heat for the finale. But there's one more as they encore with "Don't Ease Me In," it's as expected yet purposeful - sending the audience home with a warm and contented grin.

As per usual; Dick Latvala's caveat emptor: "Dick's Picks differs from our From The Vault series in that we simply did not have access to complete shows (nor the modern mixing capabilities afforded by multitrack tapes.) But we think the historical value and musical quality of these tapes more than compensates for any technical anomalies... In other words what you hear is what you get. And what you get ain't bad!"

Musicians (alphabetically) Jerry Garcia - lead guitar, vocals, Mickey Hart – drums, Bill Kreutzmann – drums, Phil Lesh - electric bass, Brent Mydland - keyboards, vocals, Bob Weir - rhythm guitar, vocals.

For sixteen years Bob Putignano has been pivotal at WFDU with his Sounds of Blue radio show (Mon. & Wed. 9am-1pm) www.SoundsofBlue.com – Previously a senior contributing editor at Blues Revue, Blueswax, and Goldmine magazines, currently the Music Editor for the Yonkers Tribune www.YonkersTribune.com - www.MakingAScene.org & www.wfdu.fm/Whats-Happening/Bob's Music Reviews/bobs music reviews/ Bob was the 2003 recipient of the "Keeping the Blues Alive" award (given by the Blues Foundation in Memphis) for his achievements in radio broadcasting.
Putignano can be contacted at: bob8003@yahoo.com
Bob Putignano:www.SoundsofBlue.com Wed. & Fri. 9am-1pm: http://WFDU.fm Now celebrating 15 + years on the air in the NYC area Music Editor: www.yonkerstribune.com, www.makingascene.org & wfdu.fm/Whats-Happening/Bob's Music Reviews/bobs music reviews/