Grateful Dead
"Dave's Picks Volume 26 "
www.Rhino.com – www.Dead.net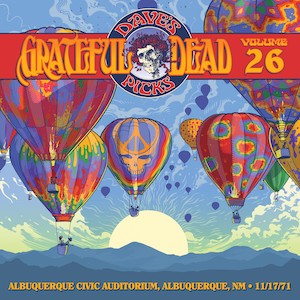 Grateful Dead "Dave's Picks Volume 26" Albuquerque Civic Auditorium: 11/17/71: 3 CD's, plus annual www.Dead.net subscribers receive a 4th bonus disc too. www.Dead.net – www.Rhino.com Discs 1 & 2 complete show from Albuquerque, NM: 11/17/71. Disc 3 is a partial show from Ann Arbor, MI: 12/14/71. The bonus disc rounds out most of the songs that didn't make it onto disc 3.
I've always enjoyed scaled-down (quintet) performances by the Grateful Dead like this Albuquerque show from the fall of '71. Mainly for the unnecessary instrument clutter, also the five band-members were given additional space to toy with, therefore they all had to work harder and smarter, and they sound more inspired, improvisational and intuitive.
Disc's one and two feature the quintet of; Jerry Garcia's lead guitar, Phil Lesh's bass, Bob Weir's rhythm guitar, single drummer Bill Kreutzmann and their newest addition; Keith Godchaux keyboards without his wife Donna's vocals. Unfortunately Ron "Pigpen" McKernan didn't make this show, but appears later on disc three and the bonus CD. At this time "Truckin'" was a relatively new and the band were using it singularly as a opening launching pad to kickoff shows with; this version is as such and sparkles. Garcia's "Sugaree" meanders a bit, but "Beat It on Down the Line" lifts off. "Tennessee Jed," "El Paso," "Big Railroad Blues," "Jack Straw" are as expected first-set inclusions. Garcia's newly minted and Bluesy "Deal" from his first solo album strolls along without fanfare, and Weir's (from his first solo LP "Ace,") "Playing in the Band" hadn't yet grown into the expanded jam edition yet, but like its studio version counterpart; displays exploration potential. Garcia's "Cumberland Blues" rarely disappoints, note Garcia's high intensity playing and the nimbleness of Lesh's bass, as well as the spontaneity of the entire quintet. The elongated (six-minute +) "Me and Bobby McGhee" is a drawn-out yawn, as is "You Win Again." But the fiery "Mexicali Blues" kicks into overdrive. A hesitant ending concludes and tarnishes an otherwise rousing "Casey Jones," as a heated yet predictable "One More Saturday Night" concludes the first set.
This Albuquerque second set opens with "Ramble On Rose," followed by a potent "Sugar Magnolia." The night ignites with a short intro of "Cryptical Envelopment" into a three minute Kreutzmann drum solo and an elegant, dramatic (and at times Garcia/Bluesy) "The Other One." "The Other One eventually jams into "Me and My Uncle," back to another ten/eleven minutes more of "The Other One," with heady Godchaux piano superlatives that intertwine with Garcia adding powerful/locomotive propulsion to the quintet. Onward the band segues to a well-placed and stunning "Wharf Rat." The youthful Dead add more with non-stop segues galore as this train powers to eight minutes of "Not Fade Away," to nearly eight more minutes of "Goin' Down the Road Felling Bad," back to "Not Fade Away." Amazing!
Disc 3: Features just four selections with Pigpen's return at Ann Arbor, MI, 12/14/71. So a month after the Albuquerque show the band expands from a quintet to a sextet. Exactly like the Albuquerque set the Dead open with their recently minted "Truckin'" Pigpen's B3 organ is greasily splattered igniting Garcia's propulsive guitar launch, it's obvious it's going to be a potent eve as everyone sounds like they're on their toes. Identically to Albuquerque next is the measured "Sugaree." Ron "Pigpen" McKernan's and Robert Hunter's rollicking favorite "Mr. Charlie" reminds me why I miss Pigpen, not just for his Blues grit, but the band (especially Garcia) seemingly enjoys Pigpen's Blues contributions. Jesse Fuller's upbeat "Beat it on Down the Line" speedily prances, then the mood shifts to Garcia's lengthy "Loser." How 'bout Earl Forest's and Bill Harvey's "Next Time You See Me" a late 1950's hit for Little Junior Parker needless to say Pigpen takes over the vocals and harp chores again with Garcia's supportive vocal harmonies and sparkly Blues licks. Garcia keeps it Bluesy (and hot) covering Noah Lewis' "Big Railroad Blues," then Pigpen sends us some Saint Nick glee with Chuck Berry's "Run Rudolph Run," and Jimmy Reed's classic "Big Boss Man." Garcia chimes with Hank Williams' "You Win Again" maintaining the Blues like mode. It should be mentioned that the order of these songs from Ann Arbor are not as they were originally performed, that being said disc 3 concludes with the second set closer "Not Fade Away," "Goin' Down the Road Feeling Bad," "Not Fade Away" shaking the house down.
Bonus disc 4: From Ann Arbor's first set: "Jack Straw," "Tennessee Jed," and "Black Peter," as is Weir's "Playing in the Band" which incidentally ended the same first set. "Casey Jones" originally kicked-off the second set, "Mexicali Blues" typically a first set standard graduates to the second set. Ah but the jam piece of; "Cryptical Envelopment," "3:37 of Drums," "The Other One," the luscious "Wharf Rat," segment, plus a standalone "Sugar Magnolia" are all highlights of the second set. Call it razzle-dazzle, but it's kind of right that those who purchased the standard 3 CD version receive the closing (Ann Arbor) "Not Fade Away," "Goin' Down the Road," "Not Fade Away" jam including the relentless Weir/Pigpen ending screams. The loyal www.Dead.net subscribers also received the bonus disc with the enormous/expansive "The Other One, "Wharf Rat," "Sugar Magnolia" portion; seems fair to me. Note: Pigpen doesn't vocally lead the band throughout this bonus disc.
As always, Dave's Picks Volume 26 has been mastered to HDCD specs from the original analog tapes by Jeffrey Norman and is limited to just 18,000 individually-numbered copies. Orders are limited to 2 copies per person.
In summary; "Dave's Picks Volume 26" is one of the best releases in the Dave's Picks series because of the quality of performance(s,) and for its superb sound quality. Jam on.
Bob Putignano: Homegrown & On-Demand Sounds of Blue Radio Shows: Always on 24x7 at: www.soundsofblue.com/radioshowsmp3.htm
Now available at: www.TaintRadio.org every: Tues & Thurs
And every Friday @ John Sinclair's: www.RadioFreeAmsterdam.com
Music Editor for the Yonkers Tribune Newspaper:
www.YonkersTribune.com/?s=bob+putignano&submit=Search
Friend me on: https://www.facebook.com/bob.putignano.1
17 years of on-air fundraising = $250,000 - DJ/host for 19 years