"Howlin' for Hubert" Sumlin Benefit
Wednesday 01/22/03
B.B. King's Midtown Manhattan Club
As if on cue, the wind was howlin' on a bone-chilling Wednesday night, but things were just heating up inside B.B. King's Midtown Manhattan club Jan. 22, 2003. The Fins kicked off the "Howlin' For Hubert [Sumlin]" benefit evening with their energized swinging groove, with special guest Greg Piccolo sending the crowd into a tizzy.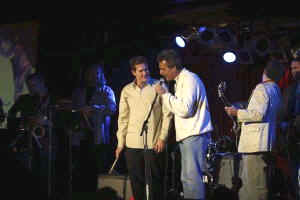 Brooklyn's own Michael Hill's Blues Mob was next, with a flawless set, adding Vernon Reid, whose playing increased the intensity of this outstanding rocking trio. Next was the unique "Guitar Only Quartet" with Elliot Sharp, Marc Ribot, Michael Hill, and guest of honor bluesman Hubert Sumlin. The Quartet performed to perfection with Michael Hill doing vocals on the first tune and then Sumlin taking over from there. Sharp, Ribot, Hill, and Sumlin gave a stunning performance. Hot on their heels and coming out smokin' was Jimmy Vivino's troupe — David Johansen, Dave Maxwell, Mike Merritt, Levon Helm, Frank Pagano, and Greg Piccolo. This band evolved into The Wolf Tribute Band, as Sumlin took over, fresh from his show gig with The Rolling Stones, showing only incredible energy and no signs of fatigue from his recent cancer surgery. Highlights included special guests Bob Margolin, Ann Rabson, and Shemekia Copeland, who tore the house down.
All in all more than $11,000 was raised from all the donated raffles and door receipts. There are more items to auction, including a Gibson guitar that will be signed at the Year Of The Blues show at Radio City Music Hall in New York City and a Dick Waterman print of Ray Charles.
Readers interested in making a donation to help offset Sumlin's medical expenses should go to www.NYBluesandJazz.org.
Bob Putignano, President
NY Blues & Jazz Society
Radio Host @ WFDU's, "Sounds of Blue"