Jerry Vivino Quartet featuring Lew Soloff
"Live at Shanghai Jazz"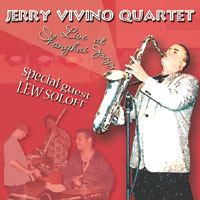 Since the inception of the Jerry Vivino Quartet, with Michael Merritt, James Wormworth, and Brian Charette, Jerry has continued to lend his talents to a variety of groups in and around New York, including Keely Smith, Johnnie Johnson, Hubert Sumlin, and as a regular on the Conan O'Brien show. The special guest, trumpeter Lew Soloff has a incredible rich history in the jazz world, working with: Miles Davis, Gil Evans, Wayne Shorter, Bob Belden, Jimmy Scott, Joe Henderson, George Benson to name a few, plus several recordings under his own name. It's no wonder why this live recording has such a good feeling to it, given the accomplishments of the musicians involved.
Of the thirteen tracks herein, all are covers, where Jerry and his band pay homage to the likes of Sonny Rollins, Louie Jordan, Willis "Gatortail" Jackson, Bill Doggett, Amos Milbourne, Thad Jones, Curtis Ousley, and Miles Davis, amongst several others.
Sonny Rollins "Doxy" starts with a nice intro by Soloff setting up Jerry for some "poppin" sax which parlays into Jerry's fine vocals on "Walk Right in" turning into a rollicking jam session for Jerry and Lew, with a solid foundation set down by the rhythm section. Groove on with Willis Jackson's "Gator's Groove" as Jerry gets greasy and wails and sails on tenor, complete with "da, dat, da, da's" as Jerry's vocals leads on the audience. A smoky "Harlem Nocturne" follows with echoes of the great Sam "The Man" Taylor from Jerry. A second Rollins tribute with Sonny's "Blue 7" with Monk like lines from Charette on piano, beautifully rolls in to Louie Jordan's "Caldonia". The Rollins influences continue on Sonny's calypso'ish "St. Thomas", as Jerry's festive vocals perfectly stroll in to "Marianne" with more fun Shanghai audience participation. Thad Jones "A Child is Born" features Jerry's gorgeous flute work and beautiful flugelhorn from Lew.
Wynonie Harris's "House Party" AKA: Shanghai Party, will have you dialing your friends and neighbors up for your own house party, as Jerry asks, "Do you feel the groove?" Charette, Merritt, and Wormworth really lay down a rock solid foundation for Jerry to rock you out on this root's of Rock n' Roll chestnut. Get your partner to slow dance to the sexy "Organ Grinder" which reaches a climaxing and furious fever, and you even get a break near the end of the song to relax to. Miles would be smiling if he heard Jerry's flute work on the short and sweet "7 Steps to Heaven". More Miles follows, as Jerry mesmerizes ala Rahsaan Roland Kirk, as he doubles on soprano and tenor simultaneously on the "Kind of Blue" album classic "All Blues". Curtis Ousley's "Soul Serenade" made famous by the late great King Curtis, shows off Jerry's solid soprano segueing into "1 Scotch, 1 Bourbon, 1 Beer" featuring Jerry's warm vocals, as Charette turns up the heat, before Jerry takes you straight to the bar. Bill Doggett's "RamBunkShus" is what you will be with Jerry's hard blowing Clifford Scott like tenor, propelled by Charette's B3 like tones, and his "In Crowd" hip piano. "There is No Greater Love" closes this disc appropriately showing the great love these musicians have for the music they obviously enjoy to deliver.
Bandleader Jerry Vivino, with his mates Merritt, Wormworth, Charette, and special guest Lew Soloff really bring back the good old days, on this infectious and entertaining recording. Now, just sit back and enjoy the groove!
Bob Putignano
President NY Blues & Jazz, and radio
host @ WFDU's, "Sounds of Blue"