Jimmie Vaughan
"Baby, Please Come Home "
The Last Music Company U.K.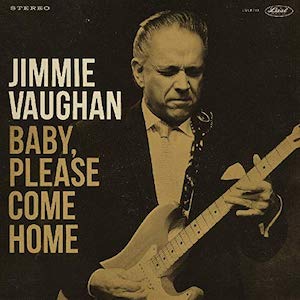 Texas guitarist-singer Jimmie Vaughan's latest album "Baby, Please Come Home" features: George Rains, Billy Pitman, Ronnie James, Mike Flanigin, Al Gomez, Kaz Kazonoff, T. Jarred Bonta, John Mills Randy Zimmerman with vocalists Georgia Bramhall, Emily Gimble and Roomful of Blues horn section greats: Greg Piccolo and Doug James.
Somehow this Lone-Star State recording "Baby, Please Come Home" is a U.K, release. It contains (mostly obscure covers) by well-known greats: Lloyd Price, Richard Berry, Chuck Willis, T-Bone Walker, Fats Domino, Dave Bartholomew, Gatemouth Brown, Jimmy Reed, Clifford Scott/Billy Butler and others. To authenticate the retro sound, most of the songs were cut in monophonically at Firestation Studios in San Marcos in (where else) Texas, and one live track from C-Boys Heart and Soul in Austin, Texas.
The opening title track authored by Lloyd Price feels and sounds like it was recorded during the early 1960's. Huey Meaux's ballad "Just a Game" follows and keeps the dial set at fifty-sixty decades past. There's a biting take of Lefty Frizzell's "No One to Talk to (But the Blues") that leaves a lasting impression. The swinging "Be My Lovey Dovey" by Richard Berry slides into the pocket with Vaughan's signature guitar comps. Chuck Willis' "What's Your Name?" powers into high-gear with Vaughan's spirited vocal and frantic guitar playing. The live chestnut/instrumental "Hold It" authored by Bill Doggett alumnus's Clifford Scott and Billy Butler slides and glides as one of the finest tunes included. T-Bone Walker's ballad "I'm Still in Love with You" is a slow-paced yet soulful tune that's not reminiscent of any T-Bone Walker tune I'm aware of, though it's very well executed. Ted Jarrett's and Campbell Connelly's "It's Love Baby (24 Hours a Day") happily ignites into another Texas shuffle. How about Fats Domino's and Dave Bartholomew's uptown grooving "So Glad" with another pair of pulsating Vaughan guitar solos. Gatemouth Brown's "Midnight Hour" powers another authentic Texas mode especially when Vaughan provokes the proceedings with razor sharp guitar blasts. The album concludes with a kicking rendition of Jimmy Reed's "Baby, What's Wrong" that sounds like it was recorded live though the liners state that it's studio track, nonetheless: it's another solid tune.
You will either love the retro mode of Jimmie Vaughan's "Baby, Please Come Home," or might dismiss it as another batch of recycled (yet obscure) cover tunes. I happen to believe that a great deal of thought (and Texas pride) was the driving factor for this recording, easily making "Baby, Please Come Home" one of the most unique recordings of 2019.
Jimmie Vaughan's "Baby, Please Come Home" is also available in various digital formats as well as 180 gram analog vinyl LP
For 20 years Bob Putignano has been pivotal with his Sounds of Blue radio show. Hear new Homegrown Sounds of Blue internet radio shows: http://soundsofblue.com/radioshowsmp3.htm and at John Sinclair's www.RadioFreeAmsterdam.com & www.TaintRadio.org Previously a contributing editor at Blues Revue, Blueswax, and Goldmine magazines, currently the Music Editor for the Yonkers Tribune www.YonkersTribune.com  Bob was also the 2003 recipient of the "Keeping the Blues Alive" award (given by the Blues Foundation in Memphis) Putignano can be contacted at: BobP@SoundsofBlue.com