Jimmy Webb
"Angel Heart 35th Anniversary Expanded Edition"
www.RealGoneMusic.com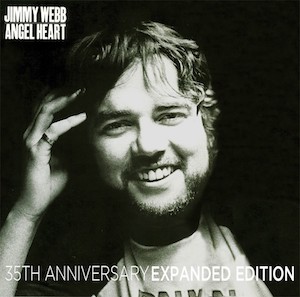 Jimmy Webb was (and probably still is) an occasional live performer, and recording artist, but his solo career never approached his successes as a composer. Between 1966 and 1969 Webb authored platinum selling classics; "By the Time I Get to Phoenix," "Wichita Lineman," "Up, Up and Away," "MacArthur Park," and "Didn't We." With his established songwriting credits it seemingly made sense for Webb to setout on his own solo career. During the seventies Webb recorded a handful of solo albums that didn't sell well. Fortunately Webb's songwriting career continued to flourish authoring hits for Glen Campbell, Art Garfunkel, James Brown, Isaac Hayes, Junior Walker, Firefall, even Frank Sinatra and countless others were all covering Webb. During 1978 Webb entered the studio with a trio to try (again) to become a solo artist with "Angel Heart."
Hired were the production team of Matthew McCauley and Fred Mollin (both Webb fans) they superbly assembled stellar sidemen/musicians: Lee Sklar, Jeff Porcaro, Steve Lukather, Dean Parks, Fred Tackett, David Paich David Foster, guest vocalists; Michael McDonald, Graham Nash, Darryl Hall, Kenny Loggins and other well-known musicians. "Angel Heart" was Webb's seventh album, but it almost wasn't released because producers McCauley and Mollin couldn't attract an appropriate label to distribute it, largely because Webb refused to sign his songwriting credits away. Nonetheless Webb self-financed (around $100,000) for the sessions himself. In 1980 (two years after the initial "Angel Heart" sessions commenced) Webb inked a deal with Lorimar Records (who had a distribution deal with CBS/Columbia.) Lorimar finally got around to issuing "Angel Heart" in 1982. Despite everyone's solid efforts to bring this project to market, Webb's long anticipated album and the Lorimar record label vanished.
Thirty-five years later; Real Gone Music has reissued and re-mastered Webb's "Angel Heart" with three previously unreleased bonus tracks and three early demos. Unquestionably this is late seventies pop-rock, though there's enough bite and smart jams included that will satisfy listeners (myself included) who "live for" studio snippets of sharp solos and smart interplay. Mostly throughout there's all kinds of glowing nods to bands like latter day Beach Boys, some tunes hint at the psychedelic spectrum, while others really rock-our and jump out from your speakers.
Rounding out this tasteful package is a skillfully crafted (unnumbered) twenty-four page booklet with chronological and heartwarming writings by co-producer Fred Mollin. There are also pictures from the time of the recording. Also included are detailed track-by-track listings of all of the session players as well as transcribed lyrics. Though if you have an earlier edition, or go online to see you for yourself how the original cover-art has been modified. Airbrushed out are Webb's cigarette from his hand, but who is the attractive lady that was edited out and removed from this edition? I'm just asking…
In summary, enjoy this fascinating Jimmy Webb document from the late seventies/early eighties, it's an exceptional gem from an era long gone. And even though Sony records reissued "Angel Heart" in the nineties, and various import labels have also licensed and reissued (including the original cover artwork with Webb's cigarette and with the attractive lady :) Kind kudos are in order for Real Gone Music, who continue go the extra mile with many of their reissues, especially with this Jimmy Webb 35th Anniversary Expanded edition of "Angel Heart." Real Gone's attention to detail truly enhances Webb's somewhat lost and forgotten collector's item. Enjoy it, I certainly did.
For 17 years Bob Putignano has been pivotal with his Sounds of Blue radio show. Hear new Homegrown Sounds of Blue internet radio shows: http://soundsofblue.com/radioshowsmp3.htm Previously a contributing editor at Blues Revue, Blueswax, and Goldmine magazines, currently the Music Editor for the Yonkers Tribune www.YonkersTribune.com & www.MakingAScene.org Bob was also the 2003 recipient of the "Keeping the Blues Alive" award (given by the Blues Foundation in Memphis) for his achievements in radio broadcasting. Putignano can be contacted at: BobP@SoundsofBlue.com