Onward to yet another year to have the opportunity to visit the city of Montreal, for the twenty-fourth edition of the Montreal Jazz Festival, making it something like twenty out of the last twenty-four years for me to attend this event, and about the tenth year in a row! Do I like this festival and city? No question!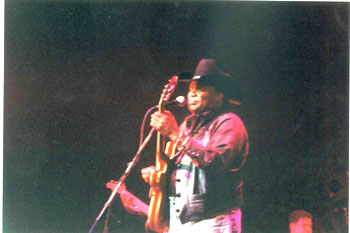 Got things kicked off with Elvis Costello, who rarely disappoints, and Elvis and his band The Imposters put on quite a show. Next it was off to see Benny Green and Russell Malone at the Spectrum, performing as a duo as they did on their best selling Telarc release, "Jazz at the Bistro". Both Malone and Green really have that telepathy thing going on real well, as they really seem to feel each others thoughts and emotions, performing flawlessly, with a great deal of style and hi level technique. Where does the time go? Its already midnight, and there is one more stop to make to see one of the many Montreal Jazz Fest's free shows, Rick Holmstrom, who is playing at the Spectrum. Rick is recently departed from Rod Piazza's Mighty Flyers., and it should be noted that Holmstrom was a integral part of the Mighty Flyers, as they were Handy awarded, "best blues band" two years consecutively. Rick performed many of the songs from his 2002 release, "Hydraulic Grooves" and is showing that he is much more than the blues man he was for so many years with Piazza. Rick put on quite the show, both breaking out the jam band styles, and paying homage to his blues roots as well. It's always great to hear blues players, break out and take on new challenges, you go Mr. Holmstom!
The next night got started with a lady I had the opportunity to see for the first time in Montreal a couple of years ago, Molly Johnson. Since that time Molly has been getting quite a bit of airplay in the NY area, thanks to the sharp ears of WBGO's program director Gary Walker, who had the opportunity to check Molly this winter in her home town of Toronto. For my own ears, I truly believe Molly has the potential to break out as a major artist, given better distribution of her music in the USA, and perhaps a mild makeover at a larger American recording label, with a serious backing section of seasoned jazz session players. Albeit, Molly put on a fine show, with her smooth and sexy vocals, she had the Spectrum in the palm of her hand, and kept a warm glow with her audience. Next stop, the Metropolis, to see the great Otis Rush, and 2002 Grammy Blues award winner Jimmie Vaughan. Now, I have been hearing from several press friends in Chicago that some of Mr. Rush's shows were not up to par, just forget about those rumors, at least for this night! Otis's band came out, sans Rush, and hit it like jumping on a speedway without any speed limits. I looked at our NY Blues and Jazz Society photographer Judy MacKenzie and said, "we will know quickly if Otis is going to be good". He was red hot! Otis took the stage and found that special sweet spot for his guitar, and never let it go, throughout his near ninety-minute performance. Without question, Otis Rush and his band was the musical highlight of my weekend. After catching my breath, I was kind of worried about how Jimmie Vaughan would be able to follow Otis, but his tight unit, with a great B3 player, and Lou Ann Barton on vocals, put on a very high spirited set, which featured Jimmie's energetic guitar playing. Okay, midnight seems to come quickly in Montreal, especially when the level of music and performances are so high. Last stop for the eve, the Spectrum, to see Canadian native of Ottawa, Sue Foley. I have been on to Sue for over ten years, and I adore her guitar playing and song writing. Last year I had the opportunity to have Sue and her band perform on my radio program, and not only is she a talented musician, but Miss Foley has very appropriate and strong opinions about the music business, and extremely good street smart instincts as to how to survive in the music business. Sue's set was impeccable, her voice sounding better than ever, and that wonderful creative guitar.
Unfortunately, I woke up Saturday morning not feeling well, and had to cut my trip short. But it was good to see my buddy Jason Koransky's name (Editor for Downbeat magazine) kindly mentioned in the Montreal Gazette, who was quoted as saying, "it's the best place to see it all". And life in Montreal would not be complete without seeing fellow NY area DJ, WBGO's Michael Bourne around town, and to have some time to talk about all the music in town, and compare notes as to what we have been listening to both live in Montreal, and new and old cd releases.
Well that's my report from the 2003 Montreal Jazz Fest, and I am definitely looking forward to their quarter century anniversary next year!
Bob Putignano, President
New York Blues & Jazz Society
Radio Host @ WFDU's, "The Sounds of Blue"