Santana
"Live at US Festivals "
DVD:www.ShoutFactory.com – Duration: 67 minutes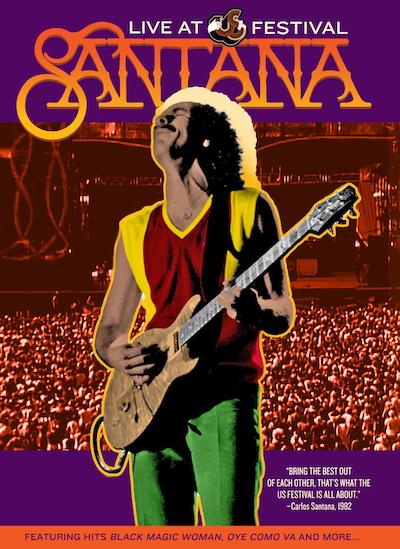 Concert performance: September 4, 1982 in California, Santana: "Live At US Festival" This DVD is a mixture of new Santana interview footage and the concert set.
The band consists of ex Brian Auger vocalist Alex Ligertwood, Richard Baker's keyboards, David Margen's bass, Graham Lear's drums, and percussion by Armando Peraza, Raul Rekow and Orestas Vilat. Special guest Herbie Hancock appears on the instrumental "Incident At Neshabur," that first appeared on Carlos'1970 album "Abraxas;" co-authored by pianist Alberto Gianquinto and Carlos Santana.
The opening song "Searchin'" finds the band sounding flat and monotone; even the usually exuberant Ligertwood (vocals) are restrained. Santana ignites with his solos on Peter Green's "Black Magic Woman," and lifts-off during the instrumental passage segueing into Gabor Szabo's "Gypsy Queen." Tito Puente's "Oye Como Va" works well but really doesn't sound much different than the original studio/album version. As mentioned earlier Hancock joins in on "Incident at Neshabur," Richard Baker's piano is the first solo, followed by Santana who tosses in a few licks of "My Favorite Things," and a lengthy solo that turns pretty, setting the tone for Hancock's accelerating electric piano with soft yet rapid-fire notes that are brilliant. Disappointingly: Hancock makes a one-stopover (Incident) appearance and splits.
It's approximately the halfway point of Carlos' set and what wears thin are the current day interview segments with Santana. Once in a while would be fine, but we have to endure Santana's ramblings after each and every song. I was hoping that these non-stop interruptions would eventually end, but it doesn't.
Ligertwood tries to breathe life into Ian Thomas' "Hold On" but the band seems unenthused, the crowd's not jumping for joy either. "She's Not There" the huge hit penned by Rod Argent for the Zombies" from 1964 is okay, though I truly enjoyed the intense segue to John McLaughlin's "Marbles" from McLaughlin's 1970 "Devotion" LP. I wasn't crazy about the repetitive "Open Invitation" though Santana roars during the instrumental conclusion. The set concludes without electric instruments, but with percussion and the voices of one of the percussionists with Ligertwood and Santana. Not only is the show over, so are the relentless Santana interviews. That is unless you want to view the "special features" that aren't very special. These "special features" consist of portions of the already seen interviews that were unwisely weaved into the concert performance.
Unfortunately Apple's Steve Wozniak and concert promoter Bill Graham's US Fest was an economic bust. But you can get yourself a copy; flashback the music, the crowd and the vibe, and enjoy some of the good tunes included, especially when Herbie Hancock joins the band. Enjoy.
For 20 years Bob Putignano has been pivotal with his Sounds of Blue radio show. Hear new Homegrown Sounds of Blue internet radio shows: http://soundsofblue.com/radioshowsmp3.htm and at John Sinclair's www.RadioFreeAmsterdam.com & www.TaintRadio.org Previously a contributing editor at Blues Revue, Blueswax, and Goldmine magazines, currently the Music Editor for the Yonkers Tribune www.YonkersTribune.com  Bob was also the 2003 recipient of the "Keeping the Blues Alive" award (given by the Blues Foundation in Memphis) Putignano can be contacted at: BobP@SoundsofBlue.com