Tom Dowd on DVD
by Bob Putignano.
Taken from the November issue of Blues Revue Magazine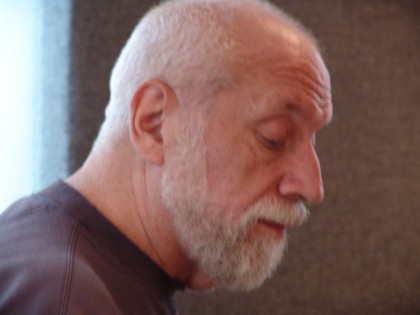 You might not know the name Tom Dowd, but chances are youıve heard his work. A producer and recording engineer whose career spanned half a century (going all the way back to the early days of Atlantic Records), Dowdıs credits include sessions with Aretha Franklin, Ray Charles, Eric Clapton, John Coltrane, and the Allman Brothers. Dowd died in 2002; now, heıs the subject of a feature film just issued on DVD.
The day before the nationwide theatrical release of Tom Dowd & the Language of Music, the documentaryıs director, Mark Moorman, and Legendary record producer Joel Dorn, who frequently worked with Dowd, got together to talk about the significance of his career.
Dorn remembered attending many Atlantic recording sessions with Dowd during the '60s and '70s. "One night at the Blue Note here in New York, Ray [Charles] made Tommy stand up and take a bow, stunning the crowd, saying, "If I am worth a dime, Tom Dowd is nine cents of it." Ray hired Dowd to build his recording studios in Los Angeles, so you know the respect was there.
"When I listen to recordings from the '50s that Tommy did, they don't sound like old records. Tommy was a near genius. He invented the slide fader we're all familiar with on soundboards."
Dorn, now 62, met Dowd in 1961. "Tommy never received appropriate recognition for all the sessions he did, nor did he get the bread. He was just a hired gun and received no royalties." But Dowd molded the recording sessions of every artist he worked with -- even such heavyweights as Coltrane, Charles Mingus, the Modern Jazz Quartet, and Ornette Coleman.
"There were some heavy vibes and egos involved, but Tommy knew how to disarm them," Dorn said. "He made everyone comfortable by letting the artist think Dowd's ideas were their own. Tommy always got the results he wanted, which were always in the best interests of the performers."
One of the filmıs highlights describes how Duane Allman became part Of Derek & the Dominos Layla sessions. "Duane had heard that the Recording sessions were starting with Eric [Clapton] here in Florida, and called me to see if he could stop by to watch and meet Eric," Dowd explains. "I told Duane itıs fine by me for him to stop by, but let me run it by Eric first. So I called Clapton, who said, "Thatıs the guitar player who played on those sessions with Aretha and King Curtis. I have a better idea: Let's go watch the Allmans perform first and take them back to the studio afterwards and jam."
Said Dorn, "This movie will touch people and make an impression. When I was a kid bugging Atlantic to do recording sessions, that was all I could think about. I was touched by Ray Charles, LaVern Baker, and Clyde McPhatter. Most kids thought about sports, marrying a rich girl, or becoming a lawyer. It was nuts, but it made sense to me. This movie will do something similar to some kid out there, and the music world will be a better place for it."
Moorman said his only regret is that Dowd couldnıt witness the warm responses from those who see the film. "But it was great to have the time with Tom, and have him as the central character for the movie," he said. "It was an honor to tell the Tom Dowd story to the world."
Dorn agreed. "I'm glad I knew Tom and got to learn from him. I hope This film touches somebody somewhere the way it touched everyone who knew Tommy."
Bob Putignano
Radio Host WFDU's "Sounds of Blue"
President of the NY Blues and Jazz Society