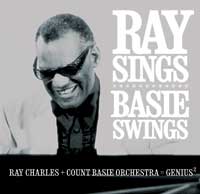 Ray Charles/Count Basie Orchestra
"Ray Sings Basie Swings"
Concord Records
by Bob Putignano
Here is the deal, Concord records exec John Burk found a live tape of Brother Ray'Äôs 1973 recording backed by his own band in Europe, (interestingly enough Basie was also on the same bill as Ray, but they did not perform together,) Burk felt Charles'Äô vocals from this performance were outstanding, but Ray'Äôs vocals were mixed too high in the mix and overpowered his bands sound, making the original recording unusable for a release. So what to do? To undertake the intricate task of re-working the Ray / Basie tapes, Burk solicited the help of Gregg Field, who toured and recorded with both Charles (as drummer and arranger) and with the Basie band. "Gregg worked with both Ray and Basie. He lived the music and he'Äôs brilliant in the studio, which made him perfect for this project,'Äù notes Burk. Field and Burk brought the current Basie orchestra 'Äì under the direction of Bill Hughes into the studio to recreate the instrumental backdrop for Charles'Äô towering vocals. Add to the mix arrangements by Quincy Jones, and Tom Scott, and you have an elixir for a very good project.
Ray Sings, Basie Swings also includes multi-GRAMMY Award-winning singer Patti Austin, who arranged and sang with the new Raelettes, jazz pianists Shelly Berg and Jim Cox, plus saxophonist Tom Scott and notable B-3 organist Joey DeFrancesco were also added.
Field, Burk and the other players built the instrumentation around Charles' vocals. "We worked so hard to retain the artistic integrity of each artist" Field relates, 'Äúand the result is an amazing combination of the Ray vocal style and the Basie sound. I can'Äôt tell you how many times we'Äôd turn the vocal down in the studio to work on the track, and when we brought Ray back into the mix, the hair on the back of your neck would stand up.'Äù It took four months, but the results are highly rewarding. 'ÄúMore and more, we saw how emotionally compelling Ray'Äôs vocal tracks were,'Äù says Burk.
Standout tracks include the opener "Oh what a beautiful Morning," a kicking "Let the Good Times Roll" the infectiously funky 'Every Saturday Night," a never tiresome 'ÄúBusted,'Äù and the bluesy 'ÄúFeel So Bad.'Äù
When I first read about the making of "Ray Sings Basie Swings"I felt that either this was going to be one big train wreck, or it would be a delightful recording. I am pleased to report that not only is this a delightful recording, its one of this year'Äôs best. Brother Ray was once quoted as saying 'ÄúMusic to me is just like breathing. I have to have it. It'Äôs part of me.'Äù Well it'Äôs great to be able to hear what Concord Records and everyone associated with the making of this recording does truly allows Ray to keep on breathing past his living years.
Folks This is an amazing project, buy it, listen to it, play it for your friends, and when you can, introduce the expanded legacy of Ray Charles Robinson to younger generation. That'Äôs What'Äôd I Say'Ķ.
Bob Putignano www.SoundsofBlue.com
Bob Putignano
Radio Host WFDU's "Sounds of Blue"
President of the NY Blues and Jazz Society