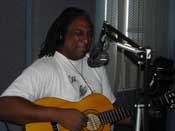 Big City
"October New York"
Report
by Bob Putignano
It's been an interesting couple of months in and around the Big Apple, with lots of veteran major roots tour circuit bands in the area- Santana, Eric Clapton with Robert Cray, the Stones, the Who, and Jeff Beck all passed through the New York area (in the last thirty to forty-five days) to name a few.
At B.B. Kings in Time Square headliners included Sonny Landreth, Bobby Blue Bland, George Clinton's P-Funk, Peter Frampton and Al Kooper.
Joe's Pub had New Orleans New Orleans great Kermit Ruffins, and speaking of New Orleans- its always great to see Walter "Wolfman" Washington (with Bonerama) at Mexicali Blues in Teaneck, NJ. It was wonderful to see the original Meters reunited, who put on a great show and kicked out the major jams at the Nokia Theatre at Times Square. Boz Scaggs' show at the North Fork Theatre in Westbury, Long Island was outstanding and Boz should be on your watch look of favorites to catch when he visits your town- as Boz and his band is top shelf. Hiram Bullock with Funky Fred Wesley was a joy to behold at Dizzy's Club Coca-Cola at the gorgeous new facility at Lincoln Center near Columbus Circle in Manhattan. By the way- Hiram Bullock really lit the room, and has a very fine brand new CD out titled "Too Funky 2 Ignore." Additionally, John Scofield also had a memorable week at the Blue Note on the west side of downtown Manhattan. .
October looks to be a strong month especially since Etta James is doing two nights at B.B. Kings plus one night at the Bergen Performing Arts Center, and one night at the more intimate setting at the Blue Note in Greenwich Village, it should be great to see Etta at this top notch room, and I should have more to report in the next issue. Speaking of the Blue Note Dr. John is also doing a one night stop there, plus one night uptown at the co-owned B.B.'s. Also at B.B. Kings where the hits just keep on coming- in addition to Etta James & Dr. John; Robin Trower, The Dirty Dozen Brass Band, Pinetop Perkins, Hubert Sumlin, and Shemekia Copeland will all perform at B.B. Kings in the coming months- right in the heart of NYC!
In nearby Piermont, NY (just about fifteen miles from midtown Manhattan) one of the best well keep secret rooms- (The Turning Point) continues to bring in high profile blues acts, with Jimmy Vivino & Felix Cabrera, Al Kooper, John Hammond, ex Blues Project lead guitarist Danny Kalb, and Johnny Winter are all scheduled to perform at this wonderful room- If you visit the NYC area, please be sure to checkout this tiny yet very comfortable room which holds approximately eighty patrons, you will not be disappointed. For more info, check out: Turningpointcafe.com The NY Blues and Jazz Society is proud to present its booking and promotion of the Towaco Arts & Music Festival- featuring International Blues Challenge winner Dave Keyes, local soul/funk/blues queen Nikki Armstrong, the Jerry Vivino Quartet, and back again (by popular demand) from New Orleans- Louisiana Blues Hall of Famer- Big Luther Kent. Speaking of Luther-he has a brand new CD about to be released from live performances culled from his journey to Italy last spring. Luther is backed by and also features tracks by the Robi Zonca Band, and it's titled "Magic Box." For more info go to: robizonca.com or check out Luther's site at lutherkent.com A couple of very noteworthy CD releases are forthcoming- a first time recording of an Eric Clapton & J.J. Cale collaboration will be released the first week in November, a new Jerry Lee Lewis CD (his first new recording in some time) should be out as you read this column, a new Ray Charles recording is also scheduled for September courtesy of Concord records, as well as a very soulful George Benson & Al Jarreau CD (scheduled for release at the end of October,) also from Concord. On a personal note I would like to thank the good folks at the Roots Music Report (www.RootsMusicReport.com) who selected WFDU's "Sounds of Blue" radio program as one of its eight best roots radio stations for 2006. Being selected along with all of the other great radio programs, plus David Fusco's nationally syndicated (102 stations) Blues Deluxe (www.BluesDeluxe.com) is especially an honor. Thus, a big warm and heartfelt thank you from me to the entire staff at RMR, and especially to Robert Bartosh, who has offered many kind words about the "Sounds of Blue" music programming. Until next issue, please keep on supporting the music you love by attending as many performances as you physically can, and be sure to purchase CD's (especially at performances) and downloads from your favorite artists. Bob Putignano www.SoundsofBlue.com Bob Putignano www.SoundsofBlue.com
Bob Putignano
Radio Host WFDU's "Sounds of Blue"
President of the NY Blues and Jazz Society