Michael Arnone's 22nd Crawfish Fest
" Augusta, New Jersey June 3, 4 & 5, 2011 "

A Righteous Blend
Michael Arnone's Crawfish Fest continues to evolve, offering an abundant variation of musical genres. This year's lineup included Mem Shannon and the Membership, Geno Delafose, Tab Benoit, The Radiators, Sonny Landreth, Nathan & the Zydeco Cha Chas, Guitar Shorty, Cowboy Mouth, Anders Osborne, and the UK-based New Mastersounds with Art "Papa Funk" Neville sitting in. Campers also got to see evening performances by George Porter, Jr. and Runnin' Pardners, Devon Allman's Honeytribe, Carolyn Wonderland, and Bonerama. And there were many other bands playing on four stages. Eclectic enough? No doubt!
Highlights for me came on Sunday, first with the forever youthful Guitar Shorty who, at seventy-one years young, smartly entertained the crowd, fired off blistering solos, and captivated the crowd for nearly ninety minutes. This Texas-born blues rocker has been around since the 1950s. He can tell you great stories about Jimi Hendrix - Shorty was married to Jimi's stepsister. He's also won first prize on The Gong Show playing guitar on his head, and has nine albums on Black Top, Collectables, Alligator, and Evidence credited to his name.

Guitar Shorty
I've seen Shorty many times over the years, including twice at the Crawfish Fest, and can tell you he has not lost a step! His days of turning somersaults, doing backward flips, and standing on his head - all while playing - are over, but his energy is still powerful. Always the crowd pleaser, Shorty enjoys going wireless into the crowd where his fans get an up close view and feel this man's prowess. Shorty's also is happy to take pictures with the audience, especially with women.
Anders Osborne also lit the stage with a powerhouse band that included Billy Iuso on second guitar. If you are not familiar with Iuso, check out his 2005 Restless Natives disc. It's a good one. Having Iuso in Osborne's band gives Anders a lot more space to create and really burn. Iuso is a very competent rhythm player/soloist, and when the two guitarists trade solo licks, the results are hair-raising. For me Osborne's entire band was the best edition I've ever seen, and I look forward to seeing this quartet in action again in the future. They were just that good.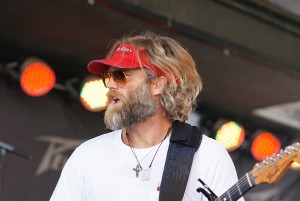 Anders Osborne
The highlight was when they covered the Lowell George/Little Feat "Spanish Moon," where blistering guitar solos erupted from both guitarists. It's also a tune the Iuso covered on the aforementioned Restless Natives. But make no doubt about it, it's Osborne who is the leader here, Osborne also looks very healthy these days and is playing some of the fiercest and most fearless guitar I've ever heard him play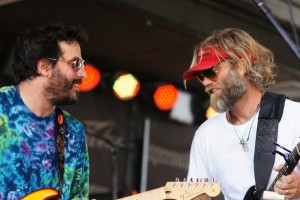 Anders Osborne and Billy Iuso
Closing the Crawfish Fest was the New Mastersounds from the the United Kingdom, with the legendary Art Neville (time to time) sitting in. Got to hand it to Arnone for both hiring the relatively unknown band from England and pairing them with Neville, though I have to say I enjoyed hearing the Mastersounds alone, as opposed to when Neville sat in. They were obviously a lot more comfortable with their own songs, and played with more energy and creativity. With Neville in the band they waltzed down memory lane and recited Meters favorites which was a treat.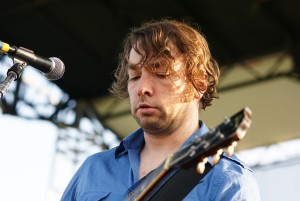 Eddie Roberts of New Mastersounds
Bob Putignano a senior contributing editor at BluesWax. He is also the heart of Sounds of Blues at www.SoundsofBlue.com. Bob maybe contacted at: bob8003@yahoo.com
Bob Putignano: www.SoundsofBlue.com