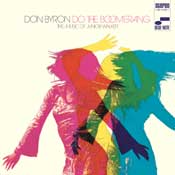 Don Byron
"Do The Boomerang"
Blue Note Records
by Bob Putignano
Talk about all over the map- Don Byron career continues to explore yet another genre on his latest release for Blue Note Records as he covers the music of the late great- Junior Walker. Blues fans will definitely enjoy the solid B3 soul groove courtesy of George Colligan, also along for this glorious ride is bluesman Chris Thomas King who lays down the vocals on four tracks, and adds his guitar on two of those four tracks.
Most of the Walker classics are covered including a smoky rendition of "Cleo's Mood," the rousing title track "Do the Boomerang" with CTK's guitar and vocal, plus an explosive "Shotgun," the hilarious "Tally-Ho," the exquisite "What Does It Take (to Win Your Love)," (also with CTK's guitar and vocal,) and the closing romp of "(I'm a) Roadrunner."
This band is so tight! As Byron blazes throughout and the aforementioned George Culligan fuels and drives the groove from beginning to end, guitarist David Gilmore (not from Pink Floyd,) Brad Jones on bass, Rodney Holmes drums, trombonist Curtis Fowlkes, the vocals of Dean Bowman, and Chris Thomas King blend and create a sound that has that old time feeling, thus paying appropriate homage to Junior Walker, but more importantly they also invigorate the classic Walker sound with their own personal signatures and very professional musicianship, thus making this recording as fresh sounding in 2006 as it did when many of these tunes first appeared on Motown in the sixties, yet it all sounds very contemporary.
Interestingly, Byron also covers the Godfather of Soul- James Brown's "There It Is." Which is over seven minutes of the funkiest jamming I have heard in quite some time. Checkout Chris Thomas King's scorching vocals, as it seems obvious King and the band were having a very funky good time when they laid this track down.
All of the performers on this recording (including Chris Thomas King) will be touring in support of "Do the Boomerarng," and I will definitely be in attendance when they come to NYC. Should Don Byron's "Boomerang" unit visit your town- don't miss them, as if they can duplicate this recordings energy- the band should blow the house down! Now if they take it up a notch or two- lookout! Very highly recommended listening- enjoy.
Bob Putignano www.SoundsofBlue.com
Bob Putignano
Radio Host WFDU's "Sounds of Blue"
President of the NY Blues and Jazz Society