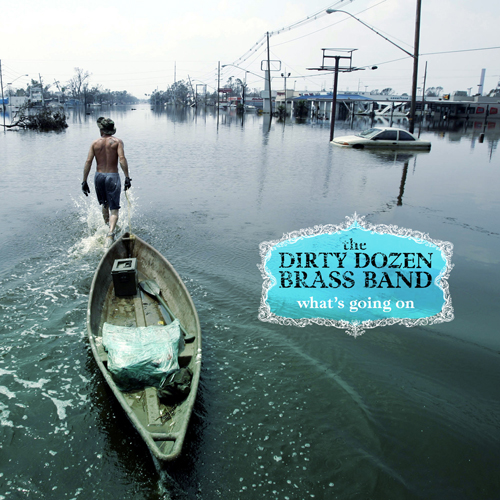 Dirty Dozen Brass Band
"What's Going On'Shout!"
Factory Records
As one of the best bands in the land, I always look forward to new recordings by the Dirty Dozen Brass Band. Leave it to N'Awlins based Dirty Dozen Brass Band to appropriately document the Katrina national disaster as the DDBB releases its variations on Marvin Gaye's timeless recording 'What's Going On.' Perhaps it has been thirty-five years after Marvin's original release, but the music and the Dirty Dozen interpretations sound as fresh as they did as when we first heard Gaye's landmark recording. Additionally- the social and political stories (unfortunately) remain nearly the same, as this album's themes are almost as vital today as they were back in the day, and perhaps more striking than ever before.
The members of the Dirty Dozen Brass Band lost their homes to Katrina, as did so many citizens and musicians of the great American and musically treasured city of New Orleans. It truly feels like the Dirty Dozen's remake of 'What's Going On' is not only an attempt to show their feelings about this national tragedy as well as other current events, but it also serves as a tribute to the emotional spirit of their hometown of New Orleans.
As has been the concept for many of the Dirty Dozen's recordings- many varied guest vocalists are featured on this recording, including contemporary artists like Chuck D, G. Love, and Guru, plus the more traditionalist performers like soul princess Bettye LaVette, and the great funky Big Easy keyboard/vocalist Ivan Neville.
"What's Going On" opens with the title track and it's pretty much a hip hop affair with Chuck D's vocals. Ah but- Bettye LaVette delivers the goods on 'What's Happening Brother,' and I've heard from reliable sources that Bettye will be hooking up with the Dozen to perform this tune live in the not too distant future- which should be a treat! 'Flyin' High (In the Friendly Sky)' is the just the Dozen first floating beautifully instrumentally- then they kick in (second line style) with the vocal chorus of 'Help Me Somebody' which makes this track captivating & evolving, and amongst my favorite tunes on the disk. I would think that the jazzy instrumentals 'Save the Children' & 'Right On' should become a favorite of the more forward thinking jazz programmers. Ivan Neville tells us why 'God is Love' and as you would expect- it's so funky! Vocalist Guru raps to 'Inner City Blues' which I would have preferred hearing instrumentally, perhaps similar to the way Grover Washington Jr. did it for CTI back in the day. .
As expected, throughout this recording the musicianship is first rate, the arrangements are consistently tight, well thought out, and immensely creative. There is something here for all ages, and while several tunes may not be everyone's cup of tea, there is no doubt that 'What's Going On' comes from the heart of the Dirty Dozen Brass Band. See the DDBB live when they come to your town- you will not be disappointed!
Note: Shout! Factory is donating a portion of the proceeds from the sale of each copy of 'What's Going On' to Tipitina's Foundation, benefiting the music community of NOLA.