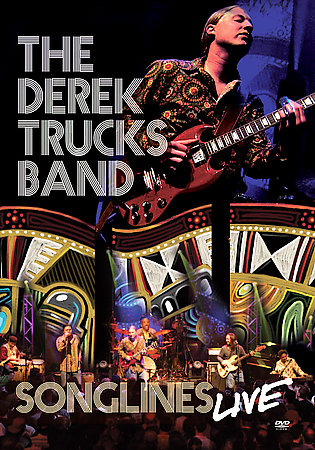 Derek Trucks Band
" Songlines Live "
DVD Sony Legacy Recordings
by Bob Putignano
Blues based improvisation at its best! That's what this latest release of the Derek Trucks Band's "Songlines - Live" DVD is. Filmed in high-definition, the sound and color of "Songlines - Live" matches the quality musicianship, hard at work. Twenty songs are included, plus bonus footage and interviews.
This DVD is excellent in every aspect. The original authored track selections and covers are extremely diverse, and it is obvious that Trucks' musical palette is far reaching, as Derek and his band cover a wide range of styles. There is no doubt that Derek has a very special understanding and appreciation of various genre's and influences, as The DTB covers Rahsaan Roland Kirk, Big Bill Broonzy, Don Robey, King Curtis, Lightnin' Hopkins, Ashford and Simpson, Herbie Hancock/Phil Upchurch, Clapton/Whitlock, Stevie Wonder, and Sister Rosetta Tharpe- talk about being musically open-minded! It is truly amazing to see how the DTB works their special flow of improvisation, especially the fearless leader Trucks. To my ears, every fan of slide guitar (especially us Duane Allman fans) should have "Songlines - Live" in their home music collection.
Highlights of the covers captured on this fine disc include the Clapton/Whitlock/Derek & the Dominos "Anyday," "Key To The Highway" (which was also covered by the Dominos on "Layla"), the Ray Charles smash hit (written by Ashford & Simpson) "Let's Go Get Stoned," King Curtis' "Soul Serenade," and Rahsaan's "Volunteered Slavery." Original authored standouts are; "Joyful Noise," "I'll Find My Way," and "For My Brother."
I would title The Derek Trucks Band as- forward thinking musicians, with an un-quenchable desire to explore, with very few musical boundaries. Is Derek Trucks the future of blues? I am not sure, as Trucks does not seem to want to be pigeon holed, but the music he and his band create is most definitely blues based, and the band seems to thirst for original American Blues music originally authored by founding fathers of the blues. It will be interesting to watch young Trucks grow, as he is only twenty-seven years old- so watch closely & stay tuned!
One other thought occurred to me about Trucks, and that is that I am thrilled with the fact that while Derek continues on with his own band, it is also fascinating to see him regularly playing with and (more importantly) learning with the current edition of the Allman Brother's, as well as with Eric Clapton's touring band, as from those road tested fathers of roots/rock/blues- one can only expect Trucks bear more fruitful growth. The Derek Trucks Band "Songlines- Live" is highly recommended listening and viewing- Enjoy!
As the musicians who surround Trucks are so very strong, I appropriately added the DTB entire personnel: Derek Trucks: guitar; Todd Smallie: bass and vocals; Yonrico Scott: drums, percussion and vocals; Kofi Burbridge: keyboards, flute and vocals; Mike Mattison: vocals; Count M'Butu: congas and percussion.
Bob Putignano www.SoundsofBlue.com
Bob Putignano
Radio Host WFDU's "Sounds of Blue"
President of the NY Blues and Jazz Society