Rock and Roll Hall of Fame
Induction Ceremony
Story and photos by Bob Putignano
<![if !vml]>
<![endif]>
Seven categorized music industry groups and/or artists were inducted into the Rock and Roll Hall of Fame on March 10, 2008: Pop star Madonna, Folksinger Leonard Cohen, roots-rocker John Mellencamp, U.K. Pop band the Dave Clark Five, and the instrumental guitar group the Ventures. The Rock and Roll Hall also inducted Blues great Little Walter in its sideman category and under its newly titled Ahmet Ertegun Award (previously titled the Non-Performer Category) legendary Soul producers Gamble & Huff were also recognized.
This was the twenty-third annual induction ceremony by the Rock and Roll Hall of Fame, which is headquartered in Cleveland, Ohio. The artists inducted were selected by six hundred music industry professionals and artists become eligible for induction into the Hall of Fame twenty-five years after the release of their first single or album. After the induction ceremony the newly crowned recipients will be displayed alongside the previous winners in an exhibition at the Ohio museum.
<![if !vml]>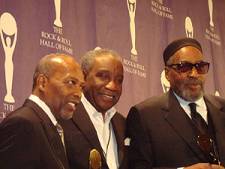 <![endif]>
Kenny Gamble, Jerry Butler, and Leon Huff
The DC5 and Mellencamp had been nominated for the Rock and Roll Hall of Fame before, but it was the first nomination for Madonna (who did not perform) and she was inducted by Pop star Justin Timberlake, plus Iggy & The Stooges performed on her behalf.
The Dave Clark Five, a Sixties British band that topped the charts with "Glad All Over," were hugely popular. So much so that even though the group disbanded in 1970, they've sold more than fifty million albums to date and Dave Clark owns one hundred percent of the publishing! Unfortunately, lead singer Mike Smith, passed away last month from pneumonia. Smith had been paralyzed from the waist down after suffering a spinal cord injury in 2003; he was 64. The other members of the band are Dave Clark, Lenny Davidson, Rick Huxley (deceased), and Denis Payton. A sharp-looking Tom Hanks inducted the band. While inducting John Mellencamp, Billy Joel said, "Let's face it. Nobody's selling records anymore. The record industry died before you did. Congratulations, John."
<![if !vml]>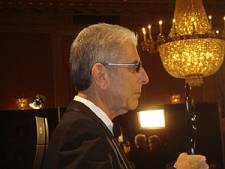 <![endif]>
Leonard Cohen
Damien Rice, who performed Leonard Cohen's "Hallelujah" just after Cohen's induction, talked about what makes the song so special for him. "There's an amazing connection between sex and spirituality and it's something Leonard Cohen hints at in that song," he said. "It's almost like a Buddhist master giving you a hint, but not the whole story." Cohen visited the pressroom, but did not take questions.
The Ventures are just about to celebrate their fiftieth anniversary in 2009, so it's really nice that they've won this award at this time. Don Wilson said of the induction, "It feels absolutely incredible, as we've been eligible for twenty-two years." Wilson also stated that the Ventures have released about two hundred and fifty albums and went on to say that the Ventures had twenty #1 hits in Japan, where they started the guitar boom there in 1962 and outsold the Beatles by an amazing margin of two to one in their first year! The Ventures seemed to be the most down-to-earth award winners during the press conference and seemed genuinely moved by their induction. I had asked the band members if they had recorded with other guitarists and they said several times and recalled making a recording with Jeff Skunk Baxter that they seemed proud of. I then remembered and asked about a Ventures LP with Harvey Mandel and Wilson answered by saying, "That's right and you have a good memory!" The Ventures' LP with Mandel is titled Rock and Roll Forever.
An intense yet very respectful Ben Harper inducted Little Walter saying, "You can hear the instrument saying to its player in every note, 'Thank you, thank you for all you've done for me.'" Then he performed "My Babe" with the great James Cotton on harmonica. Harper was also a delight in the pressroom and fielded an array of Blues and non-Blues questions with good style and wit.
<![if !vml]>
<![endif]>
Patti LaBelle
The non-performance/Ahmet Ertegun category award winners Gamble & Huff were the most charming award winners during the press conference. "We had songs that made people dance and songs that made people fall in love. We also had songs with a social commentary, like 'For the Love of Money' and 'Love Train,'" said producer Kenny Gamble after he and Leon Huff were inducted.
Someone asked, "How did the duo maintain the creative roll for so long?" "What is the old saying, opposites attract?" Gamble said. "Huff is like my brother. That's what makes this so wonderful. We've been able to stay together forty-five years, making great music and building an institution."
"Working with Kenny and Leon has meant honesty," said a vivacious Patti LaBelle, who rattled off huge hits with the duo. "They showed me in the studio how it should really be, get the song done, no punch-ins. Just sing it. I'm a real girl. I sing real songs, working with Gamble & Huff and seeing them here tonight to get this wonderful honor is making me feel proud."
All in all, the pressroom was an interesting hang, that included journalists and photographers from every corner of the planet, most of whom offered colorful commentary about the artists' on-stage performances and speeches. Needless to say, a top half-naked Iggy Pop received the lion's share of some pretty humorous and obvious pokes.
Until next time, enjoy the music!
Bob Putignano is a contributing editor at BluesWax. You may contact Bob at: bob8003@yahoo.com web site: www.SoundsofBlue.com
<![if !supportEmptyParas]> <![endif]>
<![if !supportEmptyParas]> <![endif]>