Humble Pie
" Life and Times of Steve Marriott and 1973 Complete Winterland Show: 3 discs"
www.CleopatraRecords.com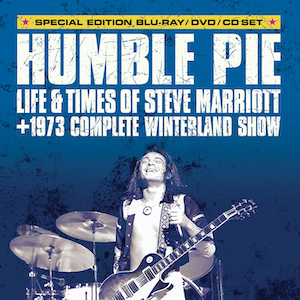 This previously issued "The Life and Times of Steve Marriott" features interviews with Humble Pie's Peter Frampton, Jerry Shirley, and Greg Ridley, plus the Black Crowes Chris Robinson, Rick Nielsen and Bun E. Carlos of Cheap Trick, John Waite, Bad Company/Free drummer Simon Kirke, Quiet Riot's Kevin Dubrow and Ricky Byrd. Marriott historian John Heller tells the story of Steve's brief life via (previously unseen) photos, memorabilia, and home movies. Rare fiery performances of The Small Faces and Humble Pie are also included.
Video track-list: "Tin Soldier," "Itchycoo Park," "Lazy Sunday," "Paradise Lost," "Take Me Back," "Natural Born Woman," "Alabama 69," "Sad Bag of Shaky Jake," "Stone Cold Fever," "For Your Love", "4-Day Creep," "30-Days In The Hole," "I Don't Need No Doctor," "Hot n' Nasty," "Black Coffee," "Bigger They Come," and "I Won't Let You Down."
Just know that this recently released so-called Ultimate Collector's package includes a Blu-ray disc, standard definition DVD plus an audio CD. Though the bonus audio CD is not the soundtrack songs from the video documentary; it's a re-release of "King Biscuit Flower Hour presents Humble Pie." A 1973 Humble Pie show (sans Frampton, who was replaced by Dave "Clem" Clempson) recorded live at Bill Graham's Winterland released by King Biscuit in 1996; perhaps you've also heard this concert in the past or you may already owned. Then there's a previously issued VHS tape from 2000 re-mastered onto Bu-ray and DVD. In other words: Other than the packaging; nothing else is new here, it's a complete do-over/reissue. But if you have not seen or heard these recordings before, or forgotten the musical content; you'll definitely enjoy this Steve Marriott/Humble Pie redo. As Yogi Berra famously said: "It's deja vu all over again." Rock On!
For 20 years Bob Putignano has been pivotal with his Sounds of Blue radio show. Hear new Homegrown Sounds of Blue internet radio shows: http://soundsofblue.com/radioshowsmp3.htm and at John Sinclair's www.RadioFreeAmsterdam.com & www.TaintRadio.org Previously a contributing editor at Blues Revue, Blueswax, and Goldmine magazines, currently the Music Editor for the Yonkers Tribune www.YonkersTribune.com  Bob was also the 2003 recipient of the "Keeping the Blues Alive" award (given by the Blues Foundation in Memphis) Putignano can be contacted at: BobP@SoundsofBlue.com