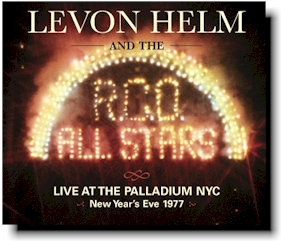 Levon Helm and the RCO All Stars
" Live at the Palladium NYC New Years Eve 1977 "
Available at: www.LevonHelm.com/store
A later day '70's super group- Levon Helm's RCO All Stars band members included; Dr. John, Paul Butterfield, Steve Cropper, Duck Dunn, and Fred Carter Jr., add to the mix a killer horn section to die for; Howard Johnson, Tom 'Bones' Malone, Blue Lou Marini, and Alan Rubin, and you have a dynamite killer band that will manufacture music of very high quality, which is what I expected and received on this very fine recording which was just released on Levon's own label.
Lets turn back the clock to NYC fabled Palladium, and it's 1977 about to turn into 1978, when the band, whoops- I mean the RCO All Stars are hitting the stage ready and armed to deliver one very memorable performance. According to the emcee its 2 hours and 5 minutes prior to midnight, and the RCO All Stars tear into the Stax classic 'Ain't That A Lotta of Love' made famous by Sam & Dave, 2-3 notes into this chestnut its obvious the band is firing on all cylinders, Levon is at full throttle with his vocals & drumming, the horn section is smoking, Butterfield fires off a dynamic harp solos, and Cropper is throwing in all kinds of sharp signature guitar blasts, you just know its going to be a hot night even though its winter in NYC.
Other standouts are a thunderous version of 'Milk Cow Boogie' where the horns really stir things up and add additional propulsion to the All Stars momentum. A percolating thumping version of 'Goin Back to Memphis' will definitely get your motor running, with more driving solo's by Butterfield and Cropper which could easily get you a speeding ticket. Cropper lays down the funky guitar riffs on 'Blues So Bad' where Butterfield is given several spots to display his distinctive harp playing. Butterfield takes center stage vocally on Nick Gravenites 'Born in Chicago' and literally blows his brains out, as Dr. John and Cropper solo simultaneously. Mac takes over the vocal chores for a 9:00 version of the tune Muddy Waters made so famous- 'Got My Mojo Working.' You know the All Stars had to deliver at least one Band tune with Robbie Robertson's 'Ophelia' which is the only Band cover that appears on this excellent collection. The disk closes appropriately with a swinging version of 'Good Night Irene' with Levon's impeccable vocals, which seemingly spontaneously meanders into a few piano & sax bars of 'Auld Lang Syne' and a 'Happy New Year' yell out to crowd first from Levon, and a final 'have a great 1978' from Dr. John- sweet!
The music included on this disk is incredibly timeless, and stands the test of time even though it was recorded nearly 30 years ago. If you are looking for a classic recording with master musicians who know how to have a good time, and who want to share their musical talents with you the listener- look no further!
Bob Putignano: www.SoundsofBlue.com