Mitch Woods
" A Tip of the Hat to Fats "
www.Blind Pig Records.com - www.MitchWoods.com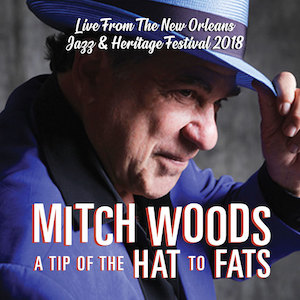 Woods' most recent album that was recorded live last year (2018) at New Orleans's Jazz & Heritage Festival. Backed by a top-shelf band: Amadee Castenell's and Brian "Breeze" Cayolle's tenor sax, along with two Dirty Dozen Brass Band alumni members: Terence Higgins' drums and Roger Lewis' baritone (Lewis was also a Fats Domino musician,) plus Cornell Williams' bass and John Fohl's guitar.
From beginning to end Woods' set is upbeat starting with his own "Solid Gold Cadillac," as well as Mitch's latter set appearance of his "Mojo Mambo." There are seven Fats Domino related covers tunes, standouts include Dave Bartholomew's "Blue Monday," and the classic "Walking to New Orleans" co-authored by Bartholomew with Fats and Bobby Charles. I also enjoyed their buoyant handling of Leon T. Rene's "Crawfishin,'" Hank Williams "Jambalaya," Jackie Brentson's "Rocket 88," and the gig ending "The House of Blue Lights," authored by Don Raye and Freddie Slack.
Mitch and his top-shelf musicians were likely specifically hired for this performance take no prisoners and are right on the money, even though it's likely they didn't rehearse. The tip-off is noting how Woods' calls out for each musicians solo by their individual names. This is actually a testimony for all the professional musicians utilized, they all have supreme musical abilities, so much so that they could perform similarly while they are sleeping. The only negative point I can make is the spoken word intros for each song (other than the opening "Solid Gold Cadillac.") Those of us who still like to listen to recordings non-stop from end to end will quickly tire of Mitch's well-intended spoken intros. Though if you're inclined; you can program the playback without the intros. Nonetheless, this is another fine set from a New York City guy who's well versed and has for a longtime made a living recording and performing New Orleans music. Enjoy!
For 20 years Bob Putignano has been pivotal with his Sounds of Blue radio show. Hear new Homegrown Sounds of Blue internet radio shows: http://soundsofblue.com/radioshowsmp3.htm and at John Sinclair's www.RadioFreeAmsterdam.com & www.TaintRadio.org Previously a contributing editor at Blues Revue, Blueswax, and Goldmine magazines, currently the Music Editor for the Yonkers Tribune www.YonkersTribune.com  Bob was also the 2003 recipient of the "Keeping the Blues Alive" award (given by the Blues Foundation in Memphis) Putignano can be contacted at: BobP@SoundsofBlue.com